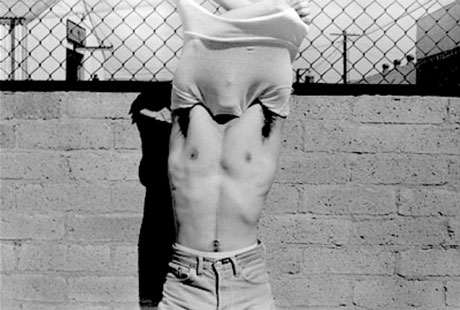 Mondo Gronk
opens Sept. 12 at DRKRM Gallery/ David (No Movie) by Gronk.

Friday, Sept 11
* Enjoy the music and support the Echo Park Animal Alliance fundraiser a Pehrspace.
* Skylight Books in Los Feliz hosts the launch party for the new novel Silver Lake.
* Thy Kingdom Come, a play about slavery in Colonial Mexico, opens at Casa101 in Boyle Heights.

Saturday, Sept. 12
* Echo Park Library Community Group book & rummage sale at the Echo Park Library.
* Arts, antiques & meditation at the East Hollywood Block Party.
* Tidy up at the Organizing Boot Camp in Echo Park.
* Audubon Center at Debs Park celebrates 5th anniversary with Meso-American ancestral music concert featuring Xavier Quijas Yxayotl.
* DAWG: Portraits from Echo Park opens at Bandit Gallery in Echo Park.
* San Antonio painter Alex Rubio presents new work in Las Vela exhibit at Avenue 50 Studio in Highland Park.
* Mondo Gronk, an exhibit of photos by Chicano artist Gronk, opens at DRKRM Gallery in Glassell Park.
Monday, Sept. 14
* More than just taco trucks: Taste of Echo Park fundraiser at Stories Books in Echo Park.
Tuesday, Sept 15
* Relax now: Stress reduction class at the Arroyo Seco Library in Highland Park.
You can find an updated version of the Save the Date calendar at Eastsider on the Go