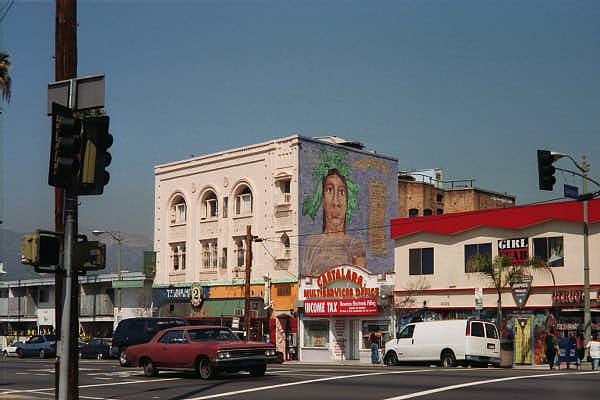 The Department of Building & Safety is looking into a supergraphic ad that has been draped over a longtime mural in Sunset Junction. The Eastsider on Monday reported that a Silver Lake resident had noticed that La Nuestra Reina de Las Iguanas near Sunset Boulevard and Sanborn Avenue had been almost completely covered by a supergraphic ad promoting a new album for the singer known as M.I.A.  Large supergraphic ads, which have angered many residents,  are prohibited across much of the city. Earlier this year, a Hollywood building owner was arrested over what officials claimed was an illegal supergraphic. The Building and Safety Department opened an investigation into the Silver Lake ad at the request of the office of Councilman Eric Garcetti following complaints from residents.  He issued this statement:
"Illegal billboards and supergraphics can destroy a neighborhood's cityscape, not only for local residents but for thousands of visitors and drivers every day. We have contacted the Department of Building and Safety, which has opened an investigation. City officials will conduct an in-person inspection of the supergraphic today."
The mural based on a photograph of a Zapotec woman by Graciela Iturbide was painted building about 15 years ago by the Sunset Junction Neighborhood Alliance as part of its youth and community beautification programs, said alliance director Michael McKinley.  McKinley, whose group rents space  in the three story building where the mural is located, said the M.I.A. ad on the east side of the building appeared one day without notice.  A large ad promoting a rum drink has been painted on the west side of the same building.
"We were not contacted," McKinley said. "That mural was among the first in a series of murals to empower the young people in the neighborhood and to beautify the neighborhood."
The Eastsider has contacted the building owner for comment.
* Update: The mural was removed sometime on Tuesday. The Eastsider
Bottom  photo by Rich Puchalsky Grassroots Connection