After managing foundries for 15 years, Gorden Bowen decided to strike out on his own, opening Arts Refoundry out of his Cypress Park home.  However, while his garage works out fine for building molds and other prep work,  it's not exactly the place where you want to be pouring batches of molten bronze and aluminum.  So,  the 37-year-old Bowen has created a fine arts foundry-on-wheels, permitting him to pour the  liquid metal for sculptures and other objects at a nearby industrial site and also at schools where he teaches.  Bowen, who fell in love with the foundry process while studying sculpture in college, calls his business a "refoundry" since he recycles and reuses many materials and items, including his equipment:
"The furnace used to be a water-heater that I found on the side of the road and the oven is a kitchen oven I got free on Craig's list (highly insulated). I announced we were open for business as soon as I had everything working smoothly."
Click on the link below to find out more abut Bowen's business and art in the Q & A.
Q: How is an arts foundry different than a typical foundry?
A: It's basically the same. We focus on pouring art pieces, whereas a regular foundry usually has a more industrial focus. As an arts foundry we have a greater sensitivity to aesthetics when it comes to finishing the pieces and the selection of the metals we use in our castings.
Q: When and how did you get into the business?
A: My first experience with foundries was in college when I was studying sculpture. Our school had a little foundry and every year the arts students were given the opportunity to pour one piece. I fell in love with the process. I've been working as a manager for foundries for the last fifteen years and it's always been my dream to have my own. About two years ago I decided to stop waiting around and build it. My foundry is called a "refoundry" because I've built it mostly out of found objects — the furnace used to be a water-heater that I found on the side of the road and the oven is a kitchen oven I got free on Craig's list (highly insulated). I announced we were open for business as soon as I had everything working smoothly.
A: What is a mobile foundry?
Q: The foundry is on wheels which allows me to pour in multiple locations. As I said above, I take it to an industrial park to do the actual pouring. But having a portable foundry has also allowed me to bring the process alive for students that I teach. As part of my program I bring the foundry to the parking lot of wherever I'm teaching and do a pour that the students can watch. Last spring I did a program for the Santa Monica Art museum for which students learned about Wagner's Ring cycle and made sculptures about themes in the opera, then I poured the sculptures in bronze. And as I mentioned above, this year I'm working with the HeArt project — this time we're working with the Autry museum and the theme is "The Mythic West." Being able to bring the foundry to the students really brings the whole process alive for them.
Q: Can you give me an idea of the range projects you have worked on? Can you give me an example prices?
A: My most recent project was casting aluminum peanuts for an artist who was making an installation in New York. I think that was one of my smallest projects. I've cast life-sized sculptures as well as monumental pieces. Prices, of course, vary. The mold is priced separately,  but once you have the mold, you can make duplicates of whatever you're casting for a set price which is essentially the labor involved and the price of the metal. A life-sized bust in bronze runs about $1000 for a mold and casting. There's a big range as far as price goes, A monumental size sculpture costs tens of thousands of dollars, while a few peanuts cost less than a hundred.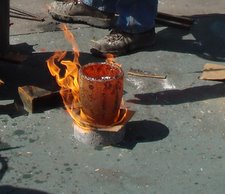 Q: An arts foundry opened up in Echo Park earlier this year? Is there growing demand for this? How do you set yourself apart?
A: I don't think the demand has changed that much — as long as artists are making sculptures they will need foundries. What makes me different is my interest in sustainability and recycled metals. Not only did I build my foundry from reclaimed stuff, but it is run on bio-diesel. I am particularly interested in using recycled metals in castings too. I am working with The HeArt Project right now, teaching high-school kids about sculpting and the casting process. My classes' sculptures were all cast in recycled aluminum. Of course recycled metal isn't right for every project and we also do archival quality bronze. Another thing which I believe will set my foundry apart is the quality of the castings. I have spent my adult life learning about metals and perfecting my techniques as a mold-maker and metal chaser — all of which means that my finished products speak for themselves.
Photos courtesy Gordon Bowen