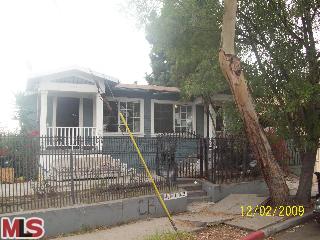 The end of the year finds some Echo Park property sellers inundated with offers while other homes just sit there even after a price cut or two. For example, a bank-owned duplex at the corner of Scott Avenue and Lakeshore Street that went on the market a few days before Christmas at $235,000 received 11 solid offers, said agent Steve Senigram. The bank is reviewing the offers, the lowest of which was $15,000 above the asking price, he said.
While the blue-and-white duplex is small – about 1,100-square-feet and "needs work," the relatively low price proved irresistible to many buyers, mostly investors, Senigram said.


Meanwhile, some other Echo Park houses have had a harder time attracting interest. On Sunset Boulevard, condos remain available at the Sunset Five more than two months after the five units – priced from $495,000 to $645,000 – in the newly built loft-style complex went on the market. The Eastsider has contacted the owner for details.
Further north in the Elysian Heights section of Echo Park, the StepHouse, built on a stairway street, priced at $699,000 remains on the market after several offers fell apart, said agent Françoise Pichon. One prospective buyer dropped out after he lost his job. "Nothing has really materialized" but the owners have not cut their asking price, she said.
Even those lucky enough to receive multiple officers must settle for prices far below those seen during the boom. That same $235,000 Echo Park duplex at Scott and Lakeshore, for example, sold for $525,000 in 2005.

Top photo from theMls.com; middle from The Eastsider; bottom from EchoParkmodern.com