In 1922 the Bank of California opened up what it called its Sunset Boulevard branch at the northeast corner of
Sunset Boulevard and Alvarado Street
in Echo Park.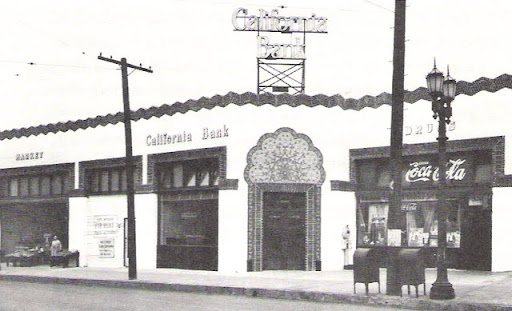 It's not clear when but the Bank of California's Sunset and Edgecliff office in Silver Lake (pictured above) was merged with the Echo Park branch, which was renamed the Sunset and Alvarado branch.
In May 1967, the Bank of California – renamed United California Bank or UCB – shut down the old branch at Sunset and Alvarado and built a new branch one block west at
Sunset Boulevard and Mohawk
at a cost of $650,000. An LAPD officer with a 12-gauge, sawed-off shot gun provided protection during the move, which was celebrated with a raffle featuring a new color TV. The original Sunset and Alvarado branch was torn down and replaced with a gas station.
During the late 1990s, the bank – now a Wells Fargo – closed and the building was transformed into a Lucy's laundry, Starbucks, Subway and other shops.
The former 6,700-square-foot Sunset and Alvarado bank branch was replaced in 1999 by a Wells Fargo automated teller.
Thanks to Echo Park resident Mary-Austin Klein who came across a 1967 United California Bank newsletter that included a story and photos about the opening of the brand new Sunset and Alvarado branch.