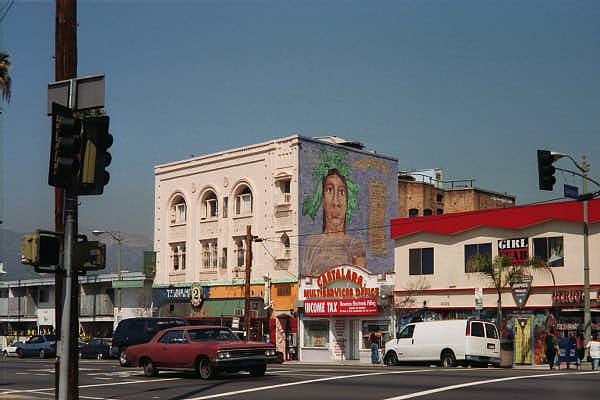 The mural of a wide-eyed woman wearing a crown of iguanas has overlooked Sunset Junction for more than a decade. But recently a Silver Lake resident named Toby noticed that La Nuestra Reina de Las Iguanas – which was commissioned by the Sunset Junction Neighborhood Alliance and Council District 13 – has been almost completely covered by a supergraphic ad promoting a new album for the singer M.I.A. A single iguana is now seen poking out from under the new ad. The mural near Sunset Boulevard and Sanborn Avenue was painted by artist Annie Sperling-Cesasno – who created several other murals in Silver Lake and Echo Park – based on a photograph of a Zapotec woman by Graciela Iturbide. How did this neighborhood mural (bottom photo) come to be wrapped in an ad, asks Toby:
"I have two questions:
1. Is this another illegal billboard blighting our neighborhood?
2. Is there any way to protect these important pieces of street art/neighborhood history?"
The Eastsider is checking with the city's Planning Department to find out if this super graphic ad is permitted.
* The Building & Safety Department is investigating the supergraphic at the request of Councilman Eric Garcetti. He issued this statement on Tuesday:
"Illegal billboards and supergraphics can destroy a neighborhood's cityscape, not only for local residents but for thousands of visitors and drivers every day. We have contacted the Department of Building and Safety, which has opened an investigation. City officials will conduct an in-person inspection of the supergraphic today."
Bottom  photo by Rich Puchalsky Grassroots Connection