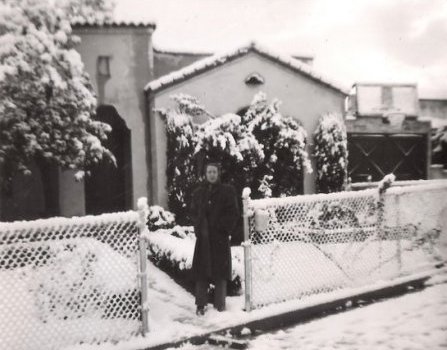 Susan Biddlecomb of Echo Park noted that an L.A. Times story said the snow level may drop to as low as 1,000 feet.  Are the hills of Echo Park and Elysian Heights high enough to get a frosting of snow, Biddlecomb asks.
"Seems that the average elevation in L.A. is 338 -340 feet above sea level, and Dodger Stadium is listed as 340 feet above sea level.  The Griffith Park Observatory is 1,134 feet above sea level and that seems pretty level with the Baxter hill to me."
Echo Park certainly does have some steep hills but it does not look like any part of the neighborhood's terrain comes close to 1,000 feet above sea level. After reviewing the topography maps in the Bureau of Engineering's website, the highest hill in Echo Park rises to 745-feet at the Edendale water tank near Cerro Gordo and Lemoyne streets.
Head north from Echo Park if you are in search of higher hills and a better chance of snowfall.  One peak near Debs Park in Montecito Heights rises to 880 feet, and a hill near the well-named Upperton Place in Eagle Rock stands at 911 feet high. But, there is even high ground on Mount Washington, where the elevation climbs to 925 feet  near Lark Court and Glenalbyn Drive.
Still, given the wacky weather of late, perhaps the snow level will plunge below 1,000 feet as it did on January 11, 1949, when the above photo on Park Drive in Echo Park was taken. Anyone have snow chains just in case?
Photo courtesy Rick Morton