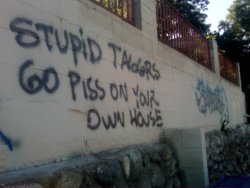 Graffiti clean-up crews are preparing for an emergency meeting on Friday to get details on a city proposal to slash their funding by 50% to help fill a widening budget gap.  If carried out, the proposal, detailed in L.A. Now, would leave Angeleno Heights-based Central City Action Committee with only three crew members instead of six to paint out tagging and graffiti on weekdays from MacArthur Park and Echo Park to Highland Park and Lincoln Heights, said Executive Director Maryanne Hayashi. Last year, Central City painted out about four million square feet of tagging and graffiti from walls, sidewalks, poles, trees and other surfaces in about 38,600 locations. Currently, Central City tries to respond to requests for services within 24 to 48 hours. That response time would double if the funding is slashed, Hayashi said.
In addition to possibly losing half of the approximately $51,000 a month it receives from the city, Central City is also facing an increase in the cost of paint and the loss one of its two water blasters, which are used to scrub out tagging on sidewalks and streets.
"If you only have three trucks out there, [residents] would be lucky if  they would get service once a month" in response to clean-up requests, she said.
* Correction: A previous version of this post said Central City receives about $61,000 a month from the city for graffiti clean up. That's wrong. The correct amount is about $51,000.