Story and photos by Valentina Silva
I always really wanted to like Good Girl Dinette. The look of the Vietnamese diner, complete with its red counter, is perfection. The Highland Park location is everything I could ask for. The ingredients are seasonal, local and sustainable. The staff is friendly. Really, what's not to love?
Well, for me, the food. I tried GGD on three separate occasions, but I just wasn't feeling it. It's not that I hated any of the dishes, but for the longest time, I really didn't get why so many people (whose food tastes I trust) were going bonkers for this place. And yes, I even tried the chicken pot pie.
I'm happy to announce that I've had a change of heart.
It'd been about a year since my visit when I had a fateful conversation with a bona fide GGD fan. He listened to my gripes, and said, "yeah, but have you tried the pork confit?" I hadn't, but his enthusiasm for the dish was pretty convincing. In fact, his mouth-watering description stayed in my head for weeks…and then the Blackboard Eats deal came. It seemed like a good risk, so back I went.
The pork confit, which is tender, simple and so savory, won me over after one bite. There's some gigantic flavor, framed by a hint of sweetness and peppery spiciness, in that little cocotte it's served in. Big points for the rustic visual appeal of the confit spill-over that graced the side of the dish. I love that. The brown rice I opted for did a lot to anchor the intensity while the greens really brightened things up.
We also ordered Grandma's Pho. The selling point of this soup is the tenderness of the chicken. The broth is nice but not spectacular. However, everything in the bowl tastes fresh, which goes a long way with pho. I also really liked the green onion overload. Definitely a good pho for nights when San Gabriel Valley feels like too much of a schlep.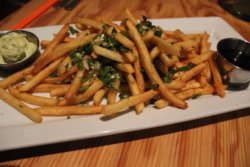 The spicy fries also made their way to our table with a side of the very necessary cilantro-maggi mayo (Get it! It's the best 75 cents you'll ever spend.). I've never had any beef with these fries. Spicy, golden and done up in garlic and cilantro, they're a GGD must and an easy obsession.
Good Girl Dinette
110 N Avenue 56
Los Angeles, CA 90042
Valentina Silva is a regular contributor writing about food and restaurants. You can also find Valentina's reviews and stories on her new blog, Eastside Food Bites.