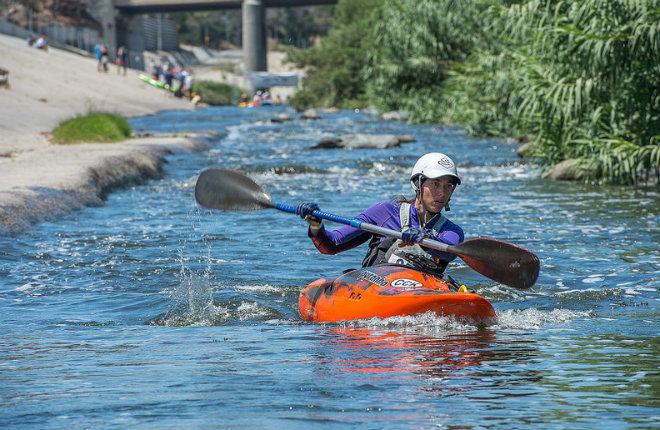 Views & Ideas is where Eastsider readers can express their opinions, start a conversation and share ideas on neighborhood  issues,  problems and potential.
By GEORGE WOLFE, SCOTT CHER, & JOEL SHAPIRO
That L.A. River water isn't pristine may not be news. But
Heal the Bay's report last week
, with measurements from last summer showing high bacteria levels, caused a stir. Unfortunately, it has also has led to some misunderstanding.
The City's response states that Heal the Bay's findings "agree with our most recent water quality results" and that "partners agreed on the need to focus more testing on the River's recreational zones." Our response is: "No. Please!" Further studies will not only waste valuable resources but fail to show anything new. It's a distraction from doing something about the source of the pollution. Los Angeles faces a systemic water pollution problem.
Heal the Bay says they support river revitalization and emphasized that the report shouldn't stop recreation—only that people should be informed and use common sense. As it is, the report may set back hard-fought years of efforts to change hearts and minds about using the river in positive ways.
What's gotten lost is that the focus needs to be on methodically improving water quality rather than providing further difficulties for the recreational users and outfitters who are out there on the front lines, cleaning the river regularly (e.g., our Kayaking Cleanup Brigade) and educating the public to grow the ranks of environmental stewardship.
LA River Expeditions estimates it has put more than 5,000 kayakers on the river since 2008, and there hasn't been one reported case of the types of health risks mentioned in the report.
Keep in mind that boating has been one of the most visible signs of progress toward the river's revitalization. It was LA River Expeditions' trip down the river's 51 miles in 2008 that gave the EPA the legal muscle to finally decide that the entire L.A. River is to be protected under the Clean Water Act. Indeed, kayakers are part of the solution.
But with river-connected activities like kayaking, fishing, biking, birding and horseback riding increasing since 2010, people have figuratively, and literally, jumped in. Despite the State Water Board and the City of L.A. noting that the river's water quality was acceptable for kayaking, they stopped shy of recommending swimming.
Opening up public access didn't yet get us to the point that FoLAR's Lewis MacAdams hoped for as a river goal: "…a swimmable river." That's OK. In recent years we've taken some large steps forward.
Looking ahead, the report notes that riverside cities and entities that discharge into the river will be legally required to clean up their acts by 2037. Seriously?! Two decades from now? Sure, there are some shorter-term "enhanced" goals. But the only study someone should do is on what the holdup is and what can be done constructively today to start making water quality better. Ferret out the greatest sources of watershed pollution and start attacking those in a concerted, strategic way — and fast.
If you're a watchdog, then sharpen your teeth, keep your watch diligently and don't bark up the wrong tree.
GEORGE WOLFE is the Founder/President of LA River Expeditions; SCOTT CHER is Education Director of LA River Expeditions; & JOEL SHAPIRO, is Co-Founder, Arts: Earth Partnership / Electric Lodge
The Eastsider welcomes reader contributions on timely topics and issues for Viewpoints & Ideas. Submissions must be no more than 500 words and written exclusively for The Eastsider. Contact us for details.
The Eastsider's Daily email digest includes all new content published on The Eastsider during the last 24 hours. Expect the digest to land in your in email in box around 7 p.m. It's free to sign up!
Once you submit your information, please check your email box to confirm your subscription.