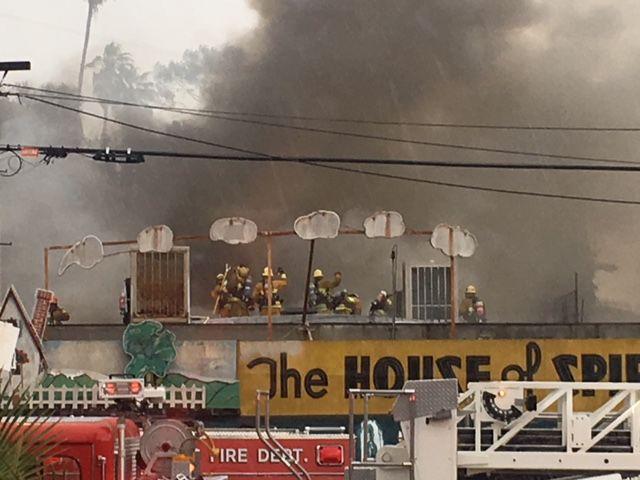 Echo Park   — Firefighters battled a fire that broke out this morning in the House of Spirits liquor store during a heavy rain, according to the L.A. Fire Department.
Here's a rundown of what happened:
It took 77 firefighters an hour and 15 minutes to fully extinguish the blaze that was reported at 9:46 am.
There are no reports of injuries, and the blaze did not spread to adjacent apartment bungalows and commercial buildings in the 1300 block of Echo Park Avenue near Montana Street. The cause of the fire has yet to be determined, said LAFD.
The blaze in the rear of the building threatened to send a roof-top air conditioning unit falling into the one-story structure.  That forced firefighters into a defensive position in the front of the store where they poured "heavy streams to extinguish the flames," said the LAFD on Twitter.
Photos and video of the fire show it burning behind the store's iconic neon sign,  which depicts puffs of smoke emerging from the chimney of a small home. The sign did not appear to be damaged.
Photos from Mary-Austin Klein show that heavy smoke billowed across nearby Sunset Boulevard. Echo Park Avenue at Montana has been blocked to traffic.
Meanwhile, several Twitter users reported that power went out in some parts of the neighborhood as the fire burned. It's not clear if the two issues are related.
House of Spirits Echo Park Firefighters on roof. pic.twitter.com/bKQiMHYTZb

— Pete (@Silverlake_Pete) December 6, 2018
Something is on fire in Echo Park #echopark pic.twitter.com/ocVbATSad4

— robert_dean (@lorange) December 6, 2018
@LADWP power out in Echo Park. When will it be back up? Berkeley Avenue near Glendale Blvd.

— J3PO (@iamj3po) December 6, 2018
Power out in #echopark, at least between Alvarado/sunset to Echo park Ave/sunset. All stores, traffic lights are dark. Creepy!

— Renée Reizman (@reneereizman) December 6, 2018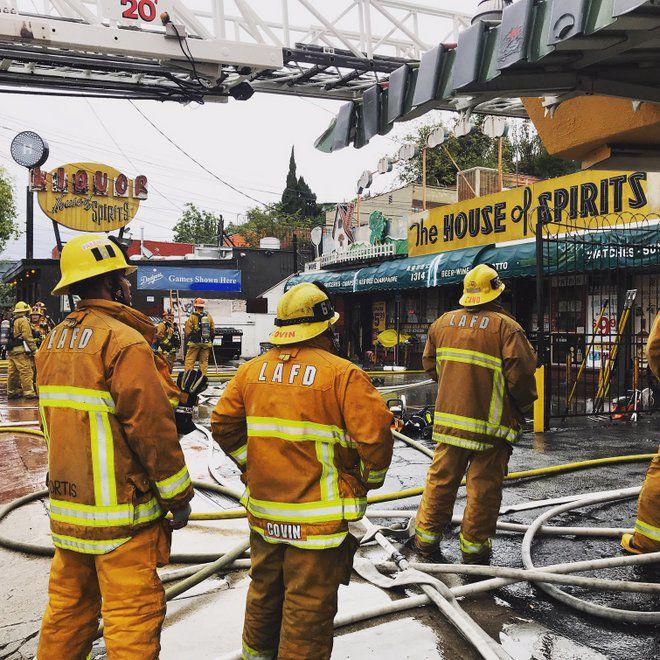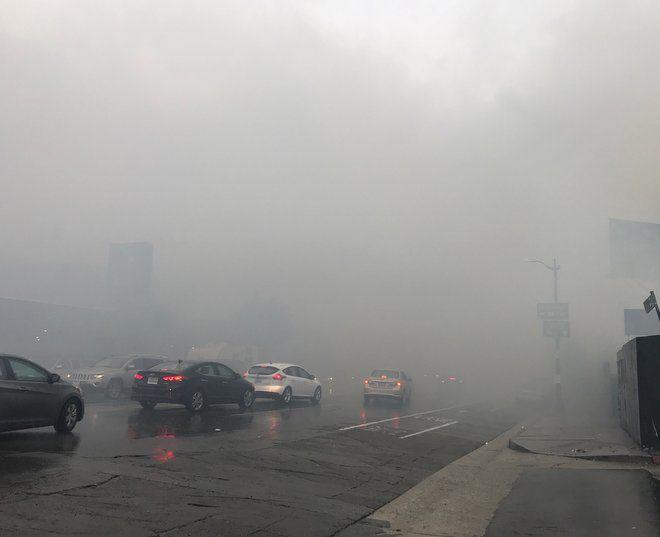 The Eastsider's Daily email digest includes all new content published on The Eastsider during the last 24 hours. Expect the digest to land in your in email in box around 7 p.m. It's free to sign up!
Once you submit your information, please check your email box to confirm your subscription.