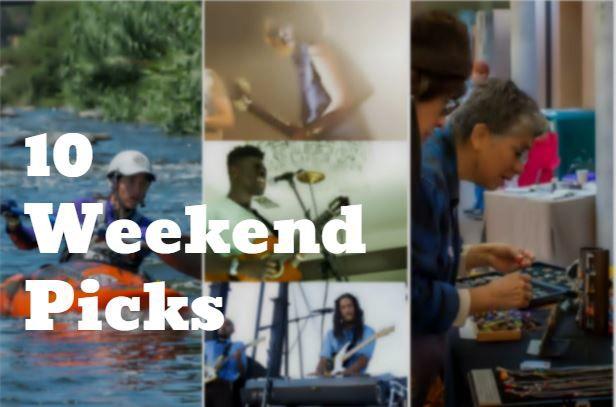 If you want to celebrate Easter, Earth Day or 4/20, this issue of Eastside Weekend has got you covered. And, for good measure, we've thrown in a vegan cheese class and burlesque show. Can't get any more Eastside than that.
 Read on for the details.
Easter is around the corner, so if you're still looking for something to do during the holiday weekend, here are some egg hunts and other springtime celebrations to consider.
FRIDAY, April 19
Friday Night Poetry at Book Show: Indulge in a night of poesy in Highland Park with poets Samantha Rose, Maxwell and Maquebeo. 8 p.m. to 10 p.m. Details
---
SATURDAY, April 20
Dazed and Connected, A Special 4/20 Event in Frogtown: Join the Mystic Rebels, a tribe of yoga and meditation teachers and healers, for a cannabis-friendly day of live music, storytelling and "stoned yoga". Cannabis will be available at the event. $20-$50. 4 p.m. to 8 p.m. Details
Decorate Your Own Bong Workshop at POT: This 4/20, POT ceramics studio in Echo Park is offering a workshop that will allow you to channel your cannabis-induced creativity into the decoration of your own bong using clay. $95. 6:30 p.m. to 8:30 p.m. Details
Intro to Ayurveda Workshop at People's Yoga in East L.A: Learn about the ancient healing practice of Ayurveda that incorporates herbology, bodywork and yoga to heal the body holistically. $30-$40. 3:00 p.m. to 5 p.m. Details
30th Great LA River Cleanup at Glendale Narrows Riverwalk: Do your part to beautify the 51-mile long Los Angeles River by joining the Great LA River Cleanup at one of three Eastside sites: Los Feliz Blvd. at Bond Park, Lewis McAdams Riverfront Park or the Bowtie Parcel. Work hard then play harder with live musical performances, gift giveaways and family-friendly activities. Fundraising optional. 9 a.m. to 12 p.m. Details
Shred 420 Featuring Grateful Shred at the Echoplex: Revel in Grateful Dead's fusion of rock, folk and psychedelia with songs covered by Los Angeles-based cover band, Grateful Shred. $35-$45. 3 p.m. to 4:20 p.m. Details
2 Degrees, Poetry in Response to Climate Change at Avenue 50 Studio: This poetry night in Highland Park is the culmination of a bilingual literary project in conjunction with the studio's group exhibition on the dangers of climate change. There will also be an open mic. Free. 6 p.m. Details
Coffee! + Comedy! Indie Comedy Show at Civil Coffee: Free coffee, beer, wine and show with comedians Madison Shepard, Matt O'Brien and Trevor Wallace. Need we say more? Free. 8 p.m. to 9:30 p.m. Details
---
SUNDAY, April 21
Wild Vegan Cheeses Workshop at Wild Terra: Learn how to make your own fermented vegan cheeses using aromatic plants, nuts, ashes and sea salt. $60. 1 p.m. Details
The Damn Devillez's Stripped From Sin at El Cid: This kinky burlesque troupe will be giving Easter their own sexy twist with their show "Stripped From Sin". $13. 8 p.m. Details