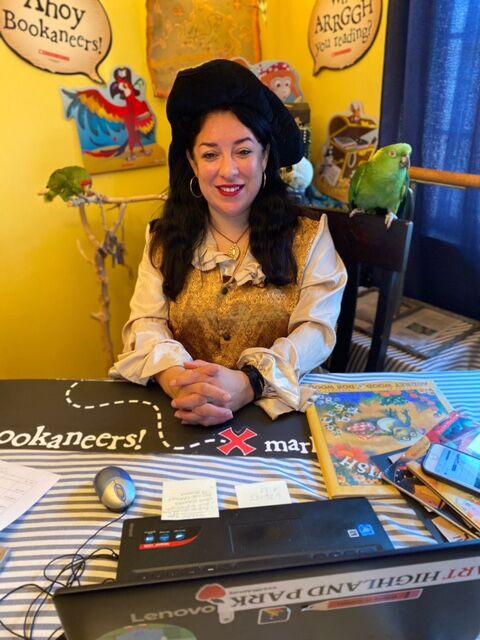 How do you stir up energy and keep young children interested when they are sitting in front of a computer all day? Maybe show up on your Zoom session with a talking parrot on your shoulder.
This is particularly handy if you have, like, a hundred birds.
"Sometimes one of our special ed students perks up," said Andrea Garcia, a library aide for Delevan Drive Elementary School in Eagle Rock and Aragon Avenue Elementary School in Cypress Park, "and at the end she and my parrot sometimes say goodbye to each other."
Garcia has taken to bringing in guest parrots - Amazons, cockatoos, cockatiels and a conure - as she leads story time via Zoom for 32 classes a week, two of the classes being special ed. It's an example of the extra steps taken by educators and other school staff to keep students engaged during virtual learning. 
She has collected the animals for years, from bird expos and private breeders, having used them for bird programs at a few public libraries back in the late 1990s. These days, she'll introduce a bird for story time, and sometimes it'll stay on her shoulder for the duration of the reading.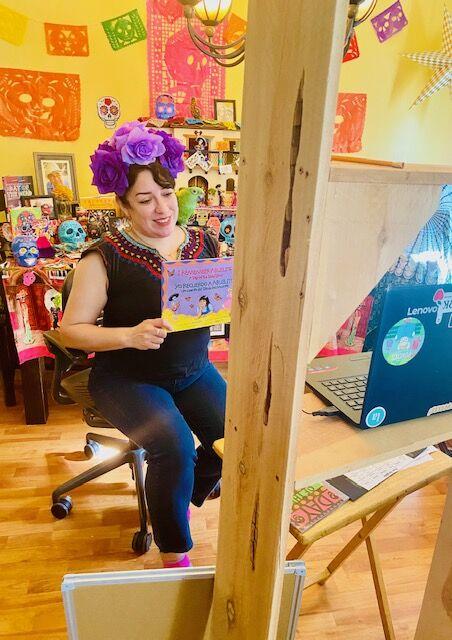 "I have about a 100 birds, mostly small birds, parakeets, cockatiels, finches, love birds," said Garcia, who added that she keeps most of the birds outside. "The ones I've been using are usually the tame ones who speak."
She added, however, that the birds are only a small part of the effort that she - and for that matter a lot of other educators - are making to reach out to students. She has taken to dressing up sometimes, such as for talk-like-a-pirate week last September. She has also been able to share her Dia de los Muertos alter with the students, and seen some of them share theirs.
"That was something we've never been able to do in the 17 years I've done an altar in the school library," Garcia said
She added that it's important for people to see the extra effort that all educators have been putting in.
"There's been a backlash on social media by some parents who are understandably frustrated because they are getting tired of this situation," Garcia said. "It's been hard for all of us. We didn't get time off since we left school in March. We were constantly trying to think how we could connect with the students."
---
A Note From The Publisher
Community News Matters: Support The Eastsider Fall Fundraiser
Thank you to all the readers who helped us get through the past six months by donating and becoming Eastsider sponsors. Your generosity, along with a grant from Facebook, allowed us to continue bringing you breaking news, features and extensive coronavirus coverage.
But we still need your help. To continue producing this website, we will need to rely much more heavily than in the past on support from readers like you. For that reason, The Eastsider has launched a fall fundraiser.
Please consider giving so that we can keep the Eastsider appearing on your phone, laptop and desktop computer. We're determined to keep you informed and connected to your community.
Please make your contribution by filling out the form below or click or tap here.
Sincerely,
Jesús Sanchez, Publisher