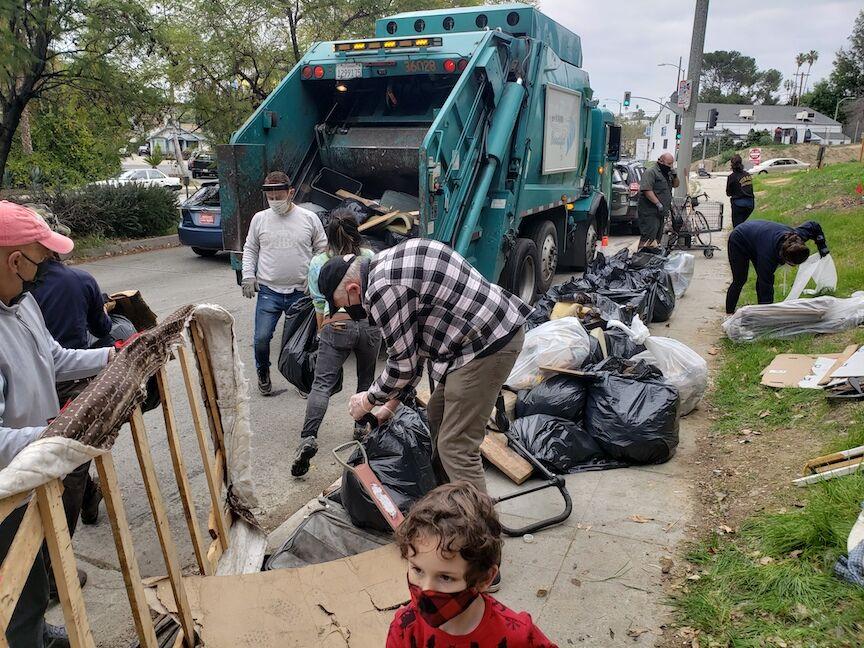 After more than a year that has seemed largely out of our personal control, there is at least one thing you can do on your own: You can pick up a piece of trash from the street. Then you can put that trash in a bag or can.
Now that spot on the road, at least, is cleaner.
So it goes with the Silverlake Trash Bandits and the Echo Park Trash Club, two groups of volunteers who are taking a DIY approach to cleaning up trash and debris on neighborhood streets, sidewalks and other public spaces. 
They are among the many volunteer sets that have been cleaning up little areas around their neighborhoods: Like Oakland's Trash Pandas Urban Clean Up (led by Bridget Schwartz), Untrash East Bay (also in Northern California), and El Sereno's Heroes of Elephant Hill.
"We began simply to take some pride in our street and to make things nicer for everyone on the block," said Joshua Hallman, who said he started the Silverlake Trash Bandits in December, picking up garbage with one of his friends from down the street.
Connecting over Echo Park trash clean ups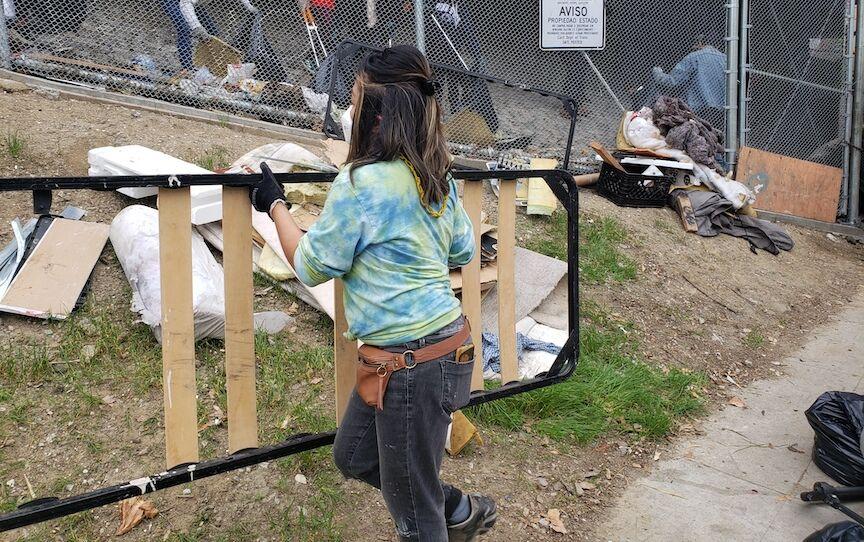 As for the Echo Park Trash Club, Erin Fein started it back last summer. In part, she said, all the trash nearby simply made her feel sad. But this was also a way to connect to people, since she has lived in L.A. for only four years.
"Because I'm not originally from here and don't have family or roots," said Fein, who originally hails from central Illinois, "I was craving a connection with this community more than I have."
She reached out through NextDoor, and the response was immediate, she said. In December, she told ABC7 that 10 to 25 volunteers were showing up for each of her clean-ups. Now, she said, it's more like 20 to 30.
They tend to do clean-ups three Sundays a month. A GoFundMe has been started to get them a truck with which they can transport the trash-picking equipment to the site. 
As for the Trash Bandits, even though they're a younger group, they've also had about 15 participants - most of whom aren't even from Silver Lake.
"Most people live in Hollywood and are either people I work with or used to work with," Hallman said. "Others have come in from the valley to help out."
Silverlake Trash Bandits spreading out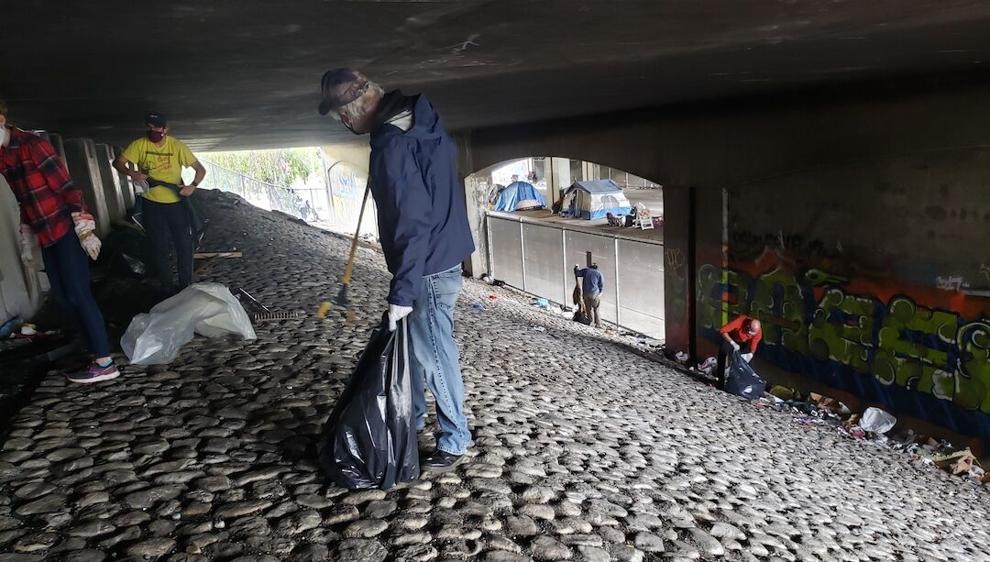 That has lead him to start looking for place to pick up trash outside Silver Lake, such as West Hollywood.
"I think my main focus will continue to be areas like bridge overpasses to combat trash in areas that the underserved and unhoused populations are inhabiting," Hallman said.
But cleaning up near encampments can be a touchy business, Fein pointed out.
"We talk to people living there and get their permission about what they would like us to take or leave," she said. "We never take anything without permission."
Once the trash is gathered into bags, however … what the heck do you do with it?
"Well, we wouldn't be bandits if we did it all by the book," Hallman said. Currently, his group has mostly been sneaking the collection of trash into apartment dumpsters. But he's starting to find out about legitimate trash drop-offs.
Echo Park Trash Club teams up with LA Sanitation
The Echo Park Trash Club now has the use of an LA Sanitation garbage truck and operator for short periods of time. Before that, though, they were using someone's flatbed truck. And before that ... they were often taking the trash home in their cars.
"It wasn't great. I'm not gonna lie," Fein said.
But even with a city sanitation truck, the trash club still stays firmly in charge of what gets thrown away - since some homeless residents mistrust LA Sanitation due to earlier sweeps, Fein said
"Folks living outside would like to have a place for their trash, but there's not a good system for that," Fein said. "All the people want it to be clean. The trash club is stepping in to some extent to provide that service."