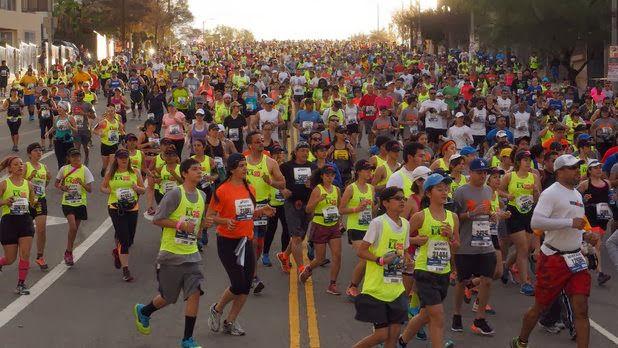 Runners in the LA Marathon this year will arrive at the finish line eight months late. Also, it's going to be a different finish line.
But they're finally going to get there.
The Marathon, which is normally held in the early spring, finally takes place this Sunday, November 7, after having been postponed twice this year because of the pandemic.  Organizers expect 13,000 runners to show up --  half of the participants in recent years. 
It still begins in Dodger Stadium, and will still cut through Echo Park, Silver Lake and Los Feliz.
Finish Line Moves to Century City
But the finish line this year is Century City instead of Santa Monica. The change was made because "the dramatically increased costs quoted by the city of Santa Monica for the 2021 running of the marathon, and future events, made remaining in Santa Monica financially infeasible," the race organizers said earlier this year.
The Century City location at Avenue of the Stars will allow for more post-race activities, such as a larger Finish Festival, concerts, gatherings and VIP entertainment, said organizers.
The race begins at 6:30 am for Wheelchair/AWD; 6:45 am for the Elite Women; 6:55 am for the Elite Men and Full Field; and 8:14 am for the Charity Challenge.
COVID Concerns
The marathon is requiring proof of full vaccination or a negative COVID test for all participants, staff, volunteers, media and spectators entering the starting area at Dodger Stadium. Face coverings will also be required in the starting area, and will be recommended in all other areas.
Los Angeles County's public health director said Thursday she is "comfortable" with plans for the marathon, despite slight upticks in COVID-19 transmission and concerns that such a large gathering of people could prompt more virus spread.
Barbara Ferrer said race organizers have worked to add "extra safety measures," but the biggest challenge will be to limit extended gatherings of crowds of people.
"The biggest issue with outdoor events is just when there's a lot of crowding for a long period of time, so hopefully spectators avoid being in those situations," Ferrer said. "And I know the marathon organizers have really gone to great lengths to limit the amount of crowding that's going to happen among the runners.
Road Closures and Parking Restrictions
Parts of the following roads will be closed as part of the course - starting at 4 am and reopening between 9 and 11:30 am, depending on the location. Also, watch for parking restrictions the night before the race:
Elysian Park Avenue
Sunset Boulevard
Cesar Chavez Avenue
Broadway
Temple Street
Edgeware Road
Bellevue Avenue
Glendale Boulevard
Hollywood Boulevard
In addition, parts of some streets will be closed that are off the main course. These will also close at 4 am and reopen by noon:
Stadium Way
Figueroa Street
Beaudry Avenue
Alvarado Street
Griffith Park Boulevard
Fountain Avenue
Some Freeway exits along the 110 and the 101 will also be closed, starting between 3 and 4 am, and reopening between 9:35 am and noon.
Finally, here are a few good spots to watch the runners in Echo Park and Silver Lake:
Clinton Stairway above Echo Park Lake
Coronado Terrace above Sunset Boulevard
Bellevue and Edgeware Road in Angeleno Heights