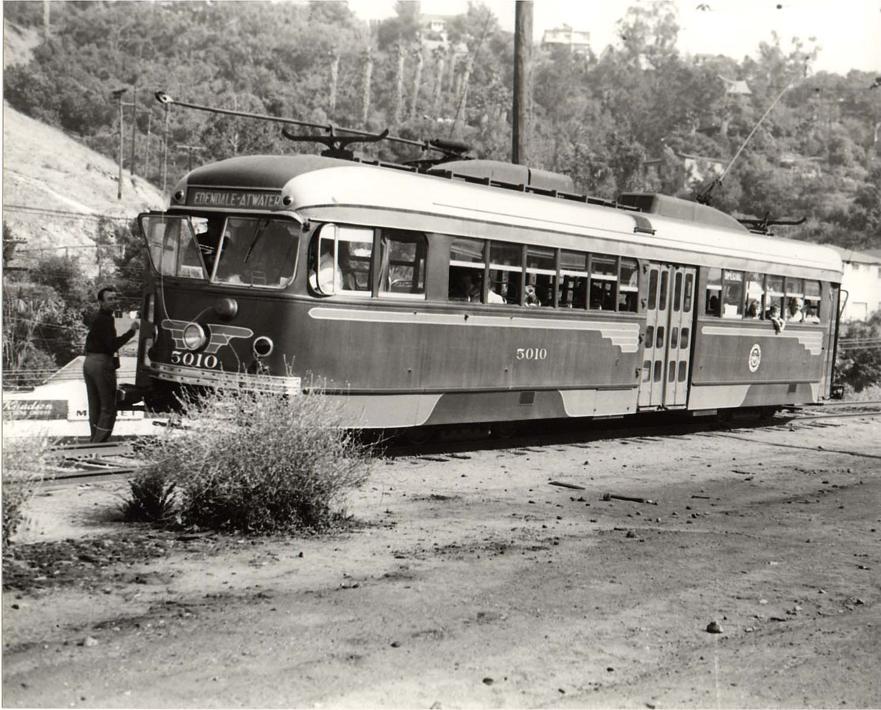 Paul Ayers was the son of a fireman on a railroad, and that's how it all started - with Ayers eventually becoming an expert on L.A.'s famous Red Car electric railway.
"My father got the railroad bug," Ayers recalls. "He and my uncle would drag me to the desert with them to look at old railways, essentially doing railroad archeology."
'The whole idea of a lost transit [system] got under my skin and into my head," he said.
On June 6, Ayers will give a presentation at the Silver Lake Library on the Red Car's Glendale Line, which ran through Echo Park, Silver Lake and Atwater Village as it connected North Glendale and Downtown Los Angeles (The Edendale Line provided local service on part of the same route for many years_.
one of my favorite old images of LA — Pacific Electric Glendale-Burbank line red car crossing over Fletcher Boulevard (at Riverside Dr) in Silver Lake circa 1955: pic.twitter.com/NjqyMzqcXo

— Matt Tinoco (@onthatbombshell) February 23, 2018
Ayers majored in history at UC Berkeley - and then, some years after that, headed to law school, being sworn into the bar on his 40th birthday. But he always retained his interest in Southern California history - researching silent movie locations, 19th century roads and trails, and the Pacific Electric Railway, better known as the Red Cars.
The citywide system of electric trolleys began with the dawn of the 20th century, ultimately spinning a web of rail that linked cities in Los Angeles, Orange, San Bernardino and Riverside counties.
And then - famously - the Red Car system was sold to Metropolitan Coach Lines, whose executive, Jesse Haugh, had connections to a public transportation company funded by General Motors and other auto-related industries. The Red Cars faded out of service not long afterwards.
But Ayers says the Red Cars had been having problems long before that.
"Prior to World War II, most of the lines were losing money," he said. "Pacific Electric was a lot about selling real estate - building lines out to places to sell. By World War II, they were already abandoning lines. Cars were more convenient."
The war stayed this decline for awhile. But then the earlier economic forces took hold again.
A Pacific Electric red car rolling down Glendale Blvd in Echo Park, via @MetroLibrary: https://t.co/gyCEjG3EMI pic.twitter.com/Xu667esOUD

— Nathan Masters (@nathanmasters) September 1, 2016
"Were there lines that should have been saved? Sure," Ayers said. "Was the way of death greased by auto interests? Yes. But the handwriting was already on the wall."
The Glendale line, in particular, had its last day of service in 1955. Ayers, in the photo above, was there.
Then again, Ayers noted, commuter train services often aren't profitable by themselves.
"People think mass transit should pay for itself. But it never does. There's other value in it - cleaner air, less traffic. But it's only successful if there's government involvement."
Ayers will focus his presentation on the Echo Park, Edendale and Atwater Village parts of the Glendale line. He'll also be discussing a new pedestrian bridge across the L.A. River, which will be using five concrete towers or piers that once supported Red Car Tracks.
Ayers presents his slide show on the history of the Glendale Pacific Electric Line at the Silver Lake Branch library, 2411 Glendale Blvd., in the Community Meeting Room, on Thursday, June 6, from 6:30 p.m. to 7:30 p.m.