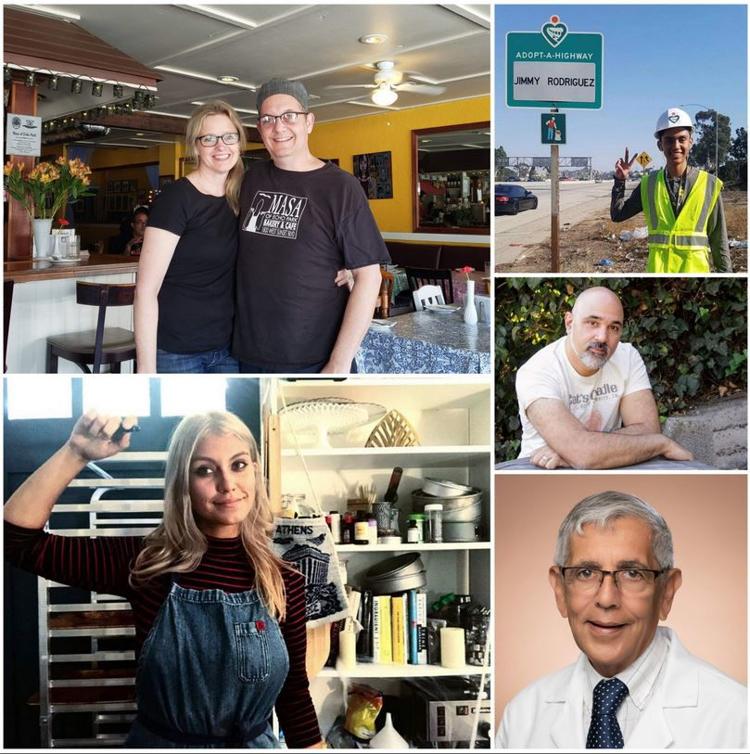 Artists. Bakers. Pizza makers. Our profiles from 2019 shined a spotlight on an interesting and diverse group  people. Read on for their stories.
-- Jesús Sanchez, Publisher
Echo Park --The neighborhood's dining and drinking scene has grown more crowded and competitive since Masa of Echo Park opened 15 years ago. But the corner restaurant manages to remain a busy place with a loyal following.
Boyle Heights -- Seventeen-year-old Jimmy Rodriguez wanted to give back to his community. So, he decided to volunteer to clean a freeway roadside near his home-- becoming the youngest person in the Los Angeles area to participate in Caltrans' Adopt-A-Highway program.
In a Q&A with The Eastsider, Krizan, who has lived in Mount Washington since 2011, talks about what inspired her to write about Nin and what she found during her research.
Frank Meza may eventually be best remembered for all the people he helped over his life as a doctor and activist. But first we will have to get further and further away from the tragic and shocking end to his life earlier this month in Cypress Park.
SILVER LAKE -- Anne Hars is a contemporary artist whose talent and passion in recent years have been spent on helping neighbors as well as strangers caught up in the city's housing crisis.
33-year-old Christopher Kwok  recently took time off to talk to the Eastsider about his first year in business and what life has been like since ditching the corporate life and starting an Echo Park tea house.
Los Feliz - From the outside, Sweeney Todd's Barber Shop looks like it materialized straight…
Richard Zaldivar recently took some time out to chat with The Eastsider about the history behind the monument and what The Wall Las Memorias Project has been up to.
ELYSIAN VALLEY -- The baker who brought flaky spinach rolls and blood orange and rose donuts…
Author Constantine Singer | Courtesy Constantine Singer
HIGHLAND PARK -- Gordon Henderson is best known for his ink-on-paper drawings of people and …
Silver Lake –– Fiora Boes has dabbled in costume design, art rentals and sales. But her pass…