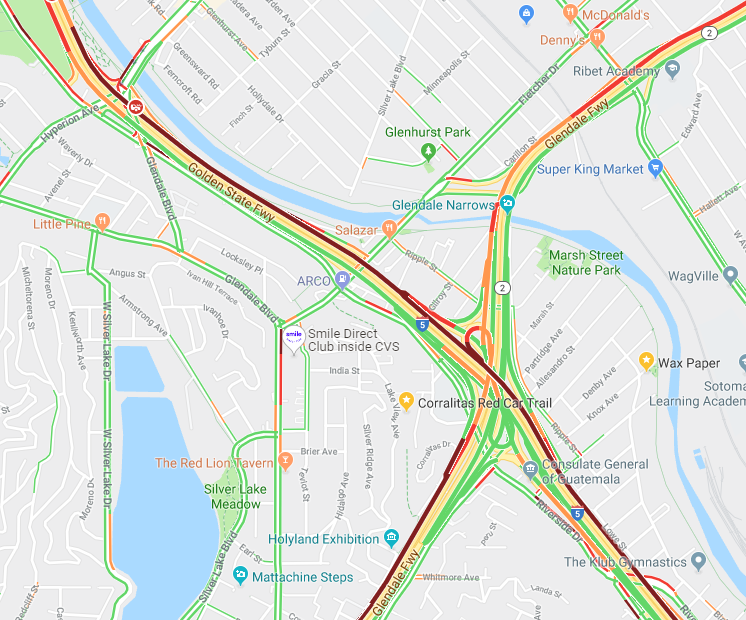 Atwater Village -- The northbound 5 Freeway that has been closed since this morning following the crash of a tanker truck may not fully reopen until tonight, according to the California Highway Patrol.
Three lanes were reopened at about 5:30 pm but two right lanes will remain closed for several more hours, according to the CHP.
The crash took place shortly after 7 am between Glendale and Los Feliz boulevards when the truck driver tried to to avoid slower-moving traffic, the CHP told City News Service.  No other vehicles were involved and only a small amount of the 7,500 gallons of diesel being transported was spilled on the roadway. 
The fuel was pumped out of the rig by about 3 p.m. and crews set about getting the truck upright, the fire department reported. 
However, the freeway remained shut down for several more hours as clean up operations continue. All northbound traffic on the 5 Freeway was being diverted to the northbound 2 Freeway, says the CHP.
Also, the transition roads from the 2 Freeway to the northbound 5 had been also been closed.
Traffic was reported to be heavier than normal on surface streets in Atwater Village, Echo Park, Elysian Valley and Silver Lake as well as on the 101 Freeway
There are no reports of injuries.
This story was updated at 6:14 pm
#Caltrans sweepers and crews are cleaning Northbound I-5 after tanker spill. Expect three left lanes on NB side to open by approximately 5:30 PM pic.twitter.com/JkDBVhMkBt

— Caltrans District 7 (@CaltransDist7) August 7, 2019
Clean-up is underway on NB I-5 north of Glendale Blvd where a tanker overturned and spilled fuel. All lanes of NB I-5 are closed. SB Route 2 connector to NB I-5 is closed too. Avoid the area. Use other routes. Updated info at https://t.co/cxZ0jVPIRf pic.twitter.com/b4CobiEzFm

— Caltrans District 7 (@CaltransDist7) August 7, 2019
#TRAFFIC ALERT: All lanes of NB 5 Freeway in Atwater Village closed due to overturned tanker truck. https://t.co/MedgKjxepk

— FOX 11 Los Angeles (@FOXLA) August 7, 2019