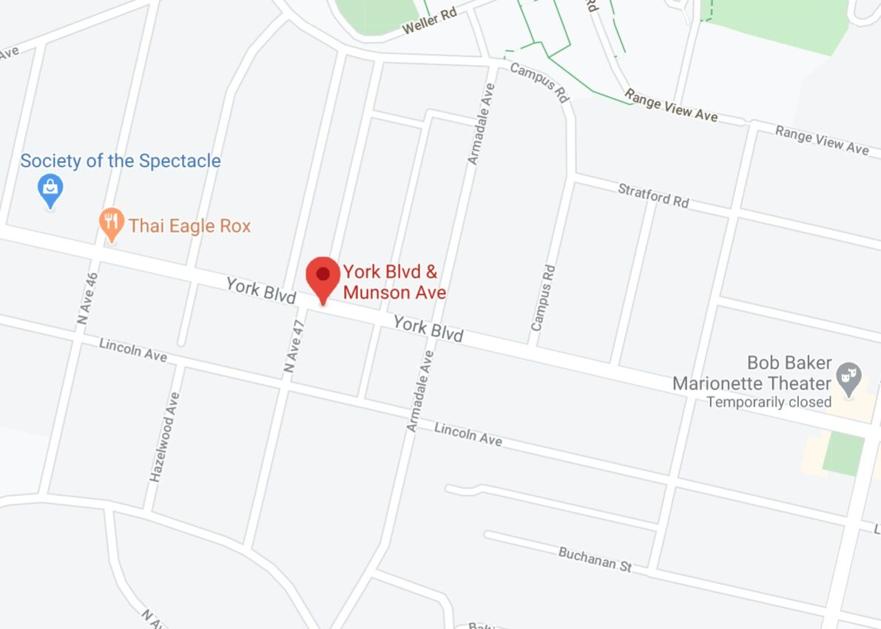 Eagle Rock - A $25,000 reward is being offered in the search for two vehicles that struck a pedestrian Monday night without stopping to identify themselves or render aid.
Police said the victim - a 65-year-old male Latino - was crossing crossing north on York Boulevard at Munson Avenue in an unmarked crosswalk at about 10 p.m. He was struck by a westbound motorcycle, knocking him into the street. The motorcycle left the scene.
A second vehicle then hit the victim who was still lying in the street. This vehicle also fled, heading west, as some witnesses tried to follow after them.
The victim was taken to the hospital, where he was reported in stable condition with non-life-threatening severe injuries.
See prior post 4 $25K Reward @LACrimeStopper1 @KCBSKCALDesk @NBCLA @KTLAnewsdesk @ABC7 @FOXLA @TheEastsiderLA @KNX1070 @LANow @LaOpinionLA @bikinginla @TELEMUNDO52 @Univision34LA @Noticias62TV @LapdWoodyard @LAPDGaryWalters @EagleRockNC @HighlandParkHLP @HHPNC @eaglerockbrew pic.twitter.com/xFlZJNFoOm

— LAPDCTD (@LAPDCTD24) August 7, 2020
Witnesses said the motorcycle was green and the cyclist wore a green helmet. Police have released surveillance video that may be the motorcycle riding on York Boulevard before the collision.
There is no information on the second vehicle.
Detectives want to talk to anyone with information on this incident, particularly the people who chased after the second vehicle.
Contacts:
Det. Juan Campos, Central Traffic Division Detectives: 213-833-3713
Central Traffic Watch Commander: 213-486-3713
Non-business hours and weekends: 1-877-LAPD-24-7 (1-877-572-3247)
To remain anonymous, call Crime Stoppers: 1-800-222-TIPS (1-800-222-8477)