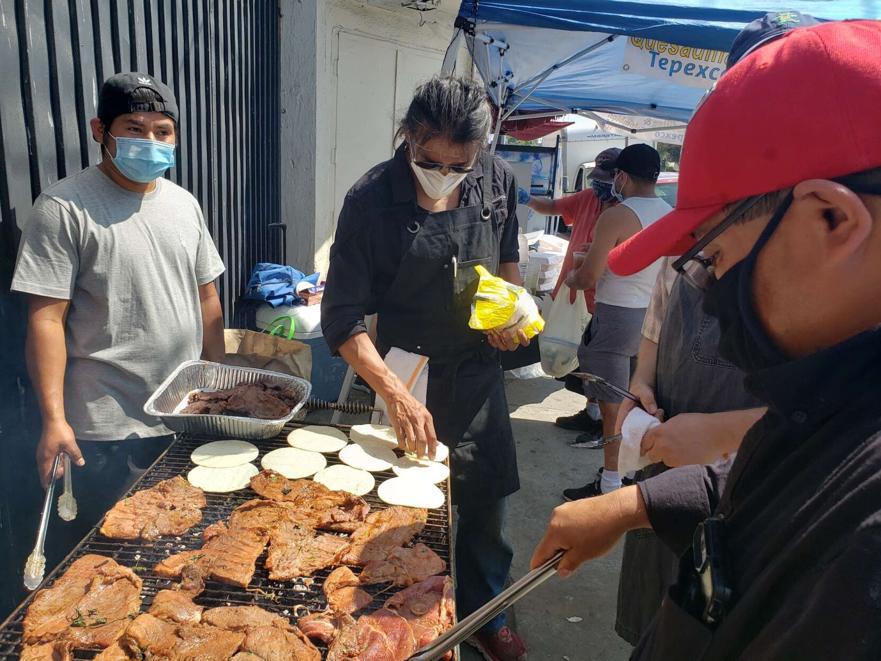 East Hollywood - People living nearby now know to line up for the free barbecue every Tuesday near the corner of Santa Monica Boulevard and Madison Avenue.
"Nearby" includes the people living in the tents on the other side of the parking lot entrance - as well as other food-insecure people who are sometimes fetching lunch for their whole families. It's reached a point where food servers have had to think about limiting the number of meals each person can take.
Since the beginning of August, a group led by local chef and activist Heleo Leyva has been setting up a barbecue in front of the Santa Monica Grocery store at 4621 Santa Monica Blvd, and handing out free lunches to a growing line of people.
"I want to say it was carefully planned. But it wasn't," said Leyva, who used to run a quesadilla stand on this spot.
That food stand fit in well with a neighborhood on the edge of gentrification. All ingredients were sourced, including (at least for awhile) the blue masa that Leyva pressed to make the tortillas. He also had a share-a-meal program: Buy a quesadilla for $7-10 for yourself, pay an extra $5 for a quesadilla for anyone who needed it.
All that shut down when the pandemic set in. But over the summer, Leyva had the idea for a free cookout. It seemed like everyone was distrusting each other, he said - people in the neighborhood, people everywhere.
That effort has grown so much that Heleo and his volunteers are now putting together advisory materials for other groups that might want to have cookout/giveaways of their own.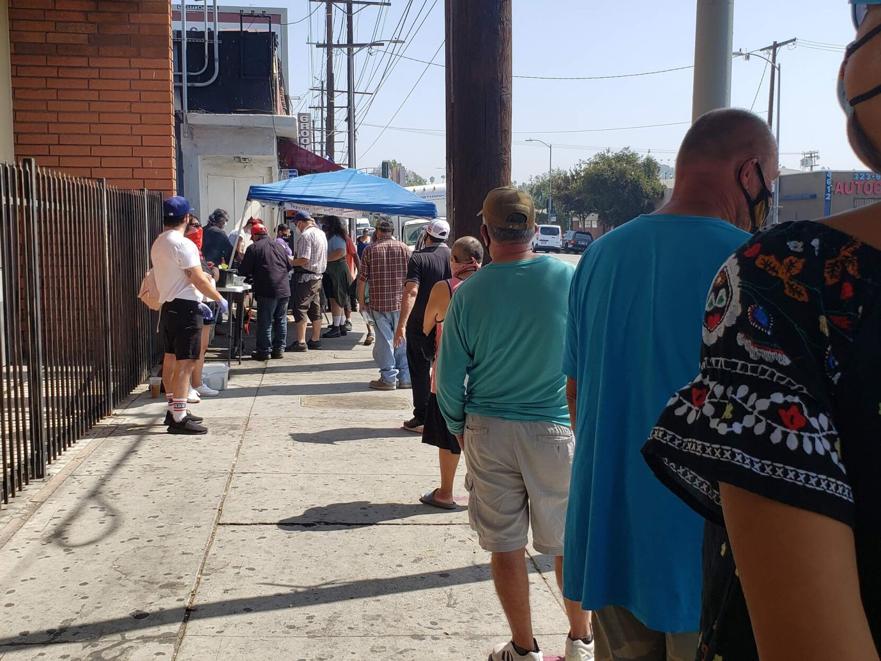 Aside from being free, this is one of the best lunches nearby. The meal usually consists of a choice of grilled chicken or beef, though on this particular day chef Alfonso Martinez from Poncho's Tlayudas in South Central L.A. also brought a third option of Mongo, a kind of blood sausage. Side dishes tend to be rice and beans, though on this day they were rice and cactus salad.
The amount of support Leyva has received surprised him, he said. Aside from Martinez, other professional chefs preparing food that day included Daniel Mattern - the owner of the Friends & Family cafe on Hollywood and Winona Boulevards - and Eleodoro Lopez, who used to run Elios Wood Fire Pizza out of a truck in Silver Lake until the city shut him down in the midst of the pandemic.
"Seeing how the whole economy has been working for some people and not others made me feel silly to stay home," Mattern said.
Other volunteers that day included Ali Pearl, who teaches writing and literature at USC, and Kenda Lopez, who recently moved too Fresno, but came back down to L.A. to volunteer, and was tasked for the day with enforcing social distancing rules in the line for food.
"This is great to see if we can do something like this in our community, you know?" Lopez said.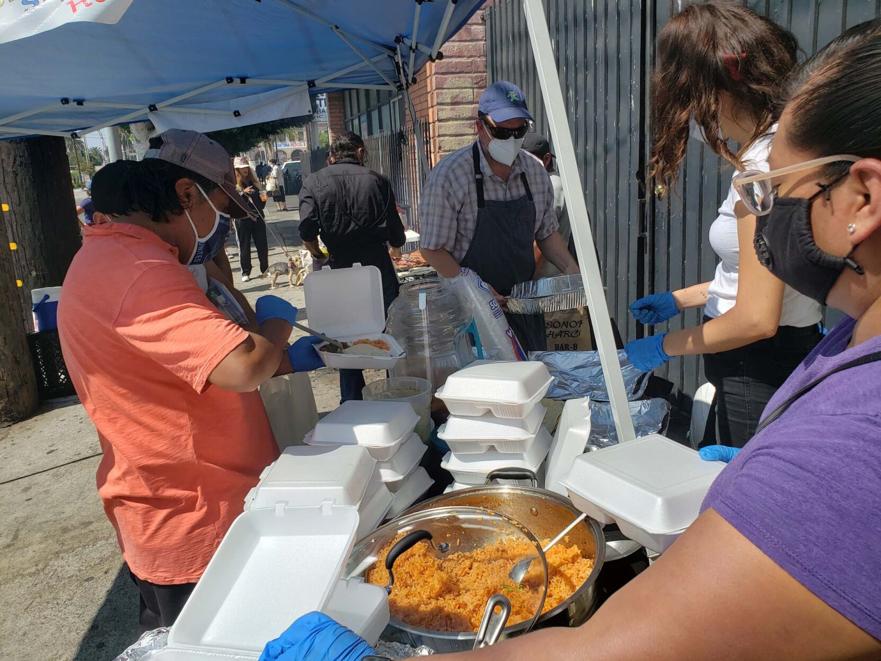 ---
A Note From The Publisher
Community News Matters: Support The Eastsider Fall Fundraiser
Thank you to all the readers who helped us get through the past six months by donating and becoming Eastsider sponsors. Your generosity, along with a grant from Facebook, allowed us to continue bringing you breaking news, features and extensive coronavirus coverage.
But we still need your help. To continue producing this website, we will need to rely much more heavily than in the past on support from readers like you. For that reason, The Eastsider has launched a fall fundraiser.
Please consider giving so that we can keep the Eastsider appearing on your phone, laptop and desktop computer. We're determined to keep you informed and connected to your community.
Please make your contribution by filling out the form below or click or tap here.
Sincerely,
Jesús Sanchez, Publisher