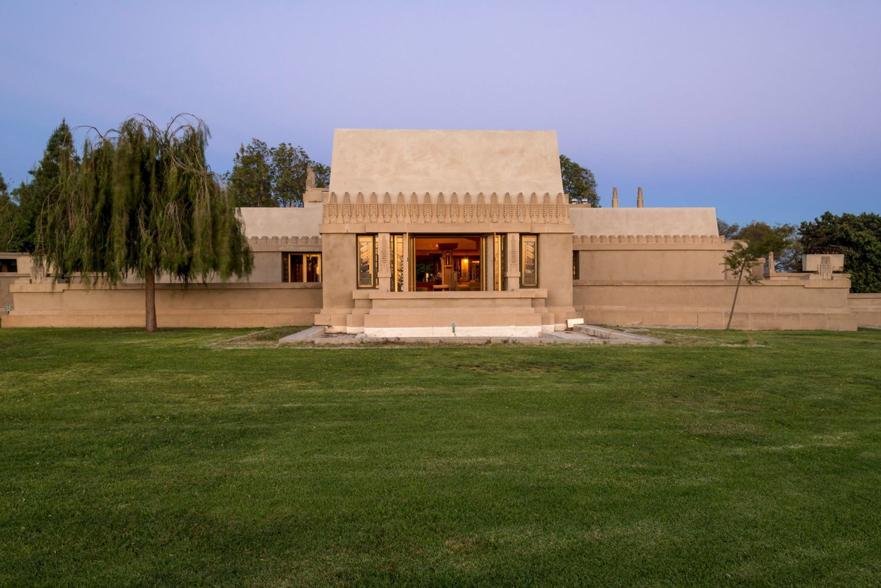 East Hollywood -- Architect Frank Lloyd Wright's Hollyhock House, built as a hilltop residence for an oil heiress, has been named as a UNESCO World Heritage site, which are regarded as among the globe's most important cultural, historic and natural sites.
The 17 room and 17 bathroom home was Wright's first California commission and one of eight of his buildings selected by the World Heritage Committee during its meeting in Baku, Azerbaijan. The Hollyhock House now joins about two dozen other U.S. sites -- which range from the Statue of Liberty to Yosemite National Park -- that have been honored by the United Nations Education Scientific Cultural Organization.
Considered a harbinger of California modernism, the house finished in 1921 sits atop a hill at what is now Barnsdall Art Park, named after Aline Barnsdall who donated her home to the city.
Barnsdall, a producer and social activist, originally conceived the home as part of an avant-garde theater but she fired Wright before he completed the other buildings, according to the Getty Museum.
Councilman Mitch O'Farrell described the home as "a beloved masterpiece locally, and now a treasure world-wide."
The nomination marks the first modern architectural cultural property designation in the United States, he noted.
The Getty said that the home was named after Barndsall's favorite flower, which Wright took inspiration from using the flower's motif throughout the home. He was also influenced by another commission he had at the time, the Japanese Imperial Hotel. A buddhist sculpture garden, an open floor plan and screen paintings infuse the home
The park is offering self-guided and exterior tours through Sunday, July 14th. Self-guided tours are $7 for adults and $3 for students and seniors. Docent tours also available. Tickets are available here or call (323) 988-0516.