Bienvenido al Boletín East LA Semanal
En este número, un grupo de vecinos de City Terrace aprende que el que nada pide, nada recibe. Probamos los sabores de los tacos de marisco de Ensenada. Y le decimos cómo terminó una persecución de alta velocidad en el Este de Los Ángeles (nada bien para el sospechoso).
Apreciamos sus comentarios. Favor de contactarme con sus ideas y sugerencias al correo: antonio@theeastsiderla.com
Antonio Mejías-Rentas, Editor | East LA Semanal
Un "club de limpieza" de City Terrace enfrenta ahora retos mayores
Lo que inició como una conversación en redes sociales sobre basura ha evolucionado en un grupo que considera lidiar con temas mayores de contaminación e inequidades ambientales en City Terrace.
Cada mes, voluntarios de The City Terrace Project (El proyecto de City Terrace) se reúnen para hacer limpiezas en lugares sugeridos en Next Door o Facebook. La basura es recogida de las calles del vecindario y puesta en bolsas, para que trabajadores de Obras Públicas se las lleven.
Debido a la pandemia, el grupo canceló sus limpiezas en marzo y no las recomenzó hasta el mes pasado, siguiendo estrictamente los protocolos de distanciamiento y seguridad.
Las limpiezas fueron idea de Sonia Roman, quien dijo que vio una "desigualdad central" cuando ella y su esposo se mudaron a City Terrace en 2012/
"Yo iba a visitar a mi hermana en Arcadia y me daba cuenta de que sus calles estaban limpias, mantenidas", dijo Roman. "Faltaba algo en nuestra comunidad".
En el verano de 2018, Román puso una pregunta en Next Door sobre cómo iniciar un "club de limpieza". Recibió estímulos e ideas, y la primera limpieza se llevó a cabo en agosto de ese año; Román pagó por los suministros de limpieza, además de por el agua y botanas para los voluntarios.
El grupo llegó a atraer a hasta 25 voluntarios cada mes, incluyendo a estudiantes de preparatoria que se unían al esfuerzo.
"Es mucho de mi tiempo, pero vale la pena porque City Terrace ya no se deja abusar", dice ella. "Nos estamos uniendo como comunidad y hablando en voz alta, porque nos merecemos los mismos recursos que otros reciben".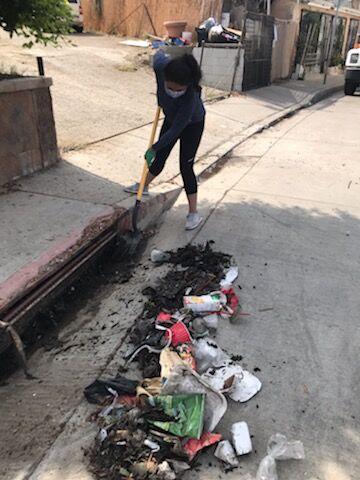 El grupo d Roman ha enfrentado problemas mayores, como la zona industrial de la avenida Indiana, justo en las afueras de City Terrace. Hallaron en el área un punto de abandono ilegal de escombros, algunos demasiado peligrosos para los voluntarios manejar.
Desde el inicio del Proyecto de City Terrace, Roman ha aprendido a navegar las burocracias gubernamentales para lidiar con una variedad de problemas. El núcleo de alrededor de 10 miembros del grupo ahora considera formar una ONG, para poder recaudar fondos.
"Si no nos levantamos como comunidad, no recibimos los servicios", dijo ella. "Desafortunadamente, así es cómo funciona en East LA".
Roman dijo que gasta alrededor de $300 de su bolsillo cada mes en la limpieza, y que trabaja unas tres horas diarias en el proyecto.
La próxima limpieza del grupo está programada para el domingo, 6 de diciembre de 9 a 11:30 a.m., en la escuela elemental Harrison, 3529 City Terrace Avenue (detalles en la página de Instagram del grupo.
---
RECURSOS Y ACTUALIZACIONES DEL COVID-19
Condado impone nuevas restricciones para detener la propagación de COVID
A partir del viernes, los restaurantes, las cantinas y otros negocios no esenciales tendrán que cerrar a las 10 pm a la vez que los casos y las hospitalizaciones continúan aumentando de forma significativa. Las tiendas al detal, oficinas, barberías y salones de belleza se limitarán al 25% de capacidad y el número de clientes en los restaurantes, cervecerías y negocios de vino que sirven en el exterior se limitará al 50% de su capacidad exterior máxima.
En el Este de Los Ángeles, el promedio semanal de nuevos casos diarios subió a 41, un alza del promedio de la semana anterior de 38. Al paso actual, la cifra total de casos en el área alcanzará los 8,000 para el fin de la semana.
Estas son las más recientes cifras:
Treinta y ocho nuevos casos fueron reportados el martes.
Hasta el martes, un total de 7,854 casos han sido reportados en el vecindario.
En los últimos siete días, tres nuevos decesos han sido reportados. La cifra total de decesos es ahora 123.
¡Vuelven los 'tiqueteros'! (Buuu)
Las multas por estacionamiento, citaciones y remolques regresaron esta semana a East LA y otras áreas no incorporadas del condado, tras una pausa en la primavera debido a las órdenes de quedarse en casa por la pandemia.Obras Públicas dijo que los oficiales del condado están resumiendo el patrullaje para mantener las calles limpias y libres de escombros al acercarse la temporada de lluvia. La unidad de patrullaje de estacionamiento del Departamento del Alguacil emitirá multas a los que violen los horarios establecidos para las barrenderas de calle y por los autos que bloqueen accesos de emergencia o tengan las placas vencidas, y a los vehículos abandonados.
Becas de COVID beneficiarán a artistas de ELA
Los artistas y las organizaciones y proyectos de arte pueden tomar de un fondo de $75,000 para dos programas de becas de la Iniciativa de Artes del Este (Eastside Arts initiative) de La Plaza de Cultura y Artes. El fondo de becas de alivio por COVID-19 "Muestra tu creatividad" de $50,000 dará becas individuales a artistas u organizaciones de arte que sirven el sector oriental del Condado de Los Ángeles. La fecha límite para aplicar es el 30 de noviembre.
---
NOTITAS BREVES
Incendio de Casa Olympic sigue bajo investigación
Los daños resultantes del incendio el 5 de octubre en un corredor de negocios que incluía la antigua tienda de descuentos Casa Olympic se estiman ahora en $8 millones, reportó The Eastsider. Un portavoz del Sheriff dijo que la propiedad en la cuadra 4700 del bulevar Whittier quedó severamente dañada y probablemente sea pérdida total. La causa del siniestro es incierta, y los oficiales dijeron que tardarán las autoridades semanas en determinar el punto de origen. La estructura, construida en 1934, estaba dividida en cinco o seis negocios de ventas al detal.
Tacos de pescado estilo Ensenada hallan hogar en East Los
Un puesto de tacos de Boyle Heights que ganó seguidores por sus tacos de pescado y camarones empanizados al estilo Ensenada ha encontrado un nuevo hogar permanente en East LA. Un artículo reciente en Eater LA alaba las delicias doradas crujientes servidas por los hermanos Juan Robert y Ulysses Sánchez en L Fish Tacos, que está colocado en un estacionamiento frente a un taller de mecánica en el 4531 East Whittier cerca de Downey Road."Tuvimos la suerte de hallar este lugar en East LA, donde puedo trabajar en mi taller de mecánica para 'lowriders' además de mi puesto de tacos", le dijo Juan Robert a la publicación. L Fish abre desde el mediodía hasta las 8 pm todos los días excepto los martes. 
---
CRIMEN/SEGURIDAD
Sospechoso de persecución de alta velocidad arrestado en East LA
Un individuo que hizo que las autoridades lo persiguieran en alta velocidad desde el condado de Riverside hasta East LA pasando por el condado de Orange fue arrestado la noche del lunes tras correr de su vehículo e intentar esconderse en una residencia privada cerca de Floral y Eastern, reportó KTLA.
Buscan a sospechoso que disparó a agente fuera de servicio
Las autoridades piden la ayuda del público para identificar a un hombre que le disparó a un agente del Alguacil en las primeras horas del domingo en la cuadra 800 de North Hazard Avenue.
CBSLA reportó que el hombre de unos 20 años se acercó al agente que manejaba su auto cerca de las 2:20 a.m., produjo un arma y le disparó. El agente fue alcanzado en la parte inferior del cuerpo y le disparó al sospechoso. No se sabe si el hombre que vestía pantalones cortos negros y una sudadera roja y que se escapó a pie, fue alcanzado por balas. El agente se llevó a si mismo al hospital donde fue atendido por sus heridas no graves.
Sheriff no patrullará más en ELAC
El departamento del Sheriff dijo que dejará de patrullar el Colegio del Este de Los Ángeles y otros campus del Distrito de Colegios Comunitarios de Los Ángeles cuando culmine su contrato el 31 de diciembre, reportó CBSLA. Un portavoz del departamento dijo que no pudo extender su acuerdo con el distrito, que explora un modelo de servicio no armado. (ELAC se encuentra en realidad en la vecina Monterey Park.)
¡Gracias por leer el boletín East LA Semanal!
No se olvide de contactarme con sus ideas, preguntas y sugerencias: antonio@theeastsiderla.com.
¡Hasta la semana próxima!
Antonio Mejías-Rentas