Bienvenido al Boletín East LA Semanal
En este número, conocemos a una maestra de City Terrace que construye una comunidad en su canal de YouTube. Obtenemos un vistazo al hogar en East LA de la estrella del Galaxy Efraín Álvarez. Y volvemos al bulevar Whittier para un triunfo más del púrpura y dorado.
Apreciamos sus comentarios. Favor de contactarme con sus ideas y sugerencias al correo: antonio@theeastsiderla.com.
Antonio Mejías-Rentas, Editor | East LA Semanal
---
Una maestra de City Terrace crea conexiones con YouTube y cafecito
Una maestra de preparatoria local ha hallado la manera de convertir su cafecito mañanero en su hogar de City Terrace en una oportunidad para construir comunidad con sus estudiantes y sus padres durante la pandemia.
Con su diario en video matutino por YouTube llamado Community Couch Time (Tiempo de Sofá Comunitario), Guadalupe Carrasco Cardona logra tanto ayudar a su comunidad en línea cómo manejar sus propios temores y ansiedades. El programa ha conseguido ser terapéutico, permitiéndole "sacarme muchas cosas de la mente".
Carrasco Cardona estaba enseñando estudios étnicos en el Centro de Enseñanza Roybal cerca del centro de LA cuando los estudiantes y docentes fueron enviados a la casa en medio del brote de coronavirus. Poco después comenzó su canal de YouTube, La Trenza, y comenzó a leer y grabar libros para niños.
"Era chido porque esos libros ayudaban a personas que estaban enseñando a chicos pequeños o que tenían a niños pequeños atrapados en casa", dice Carrasco Cardona, quien reclutó a sus propios hijos y a su esposo, el actor y músico Raúl Cardona, para añadirle músico y efectos sonoros a sus cuentos. "Eso permitió a los estudiantes crear sus propias cosas basándose en lo que nos veían a nosotros crear en la casa".
Carrasco Cardona continuó dando clases a sus estudiantes de preparatoria via Zoom. Pronto, no obstante, descubrió que la enseñanza en línea y las circunstancias traídas por el mismo COVID, estaban teniendo un efecto terrible en muchos de sus estudiantes.
Fue entonces que decidió crear una forma de mantenerse en contacto con sus estudiantes más allá de las lecciones diarias por Zoom
"Quería construir mi relación con ellos", dijo ella. "Fue entonces que se me ocurrió el Tiempo de Sofá Comunitario".
Al principio, era simplemente Carrasco Cardona sentada en su sofá con su taza mañanera de café, compartiendo una anécdota o historia. A veces, sacaba la cámara a algún lugar cercano, como el Parque City Terrace, para hablar de murales y otros puntos de referencia en su vecindario.
A la vez que Carrasco Cardona se ponía cómoda con el formato, dice que los estudiantes comenzaron a abrirse en formas que les resultaban imposibles en el formato de las clases de Zoom.
"Estaba teniendo respuestas personales verdaderamente hermosas", dijo ella. Algunos estudiantes pedían ayuda basada en su pregunta diaria.
"El hecho de que podían mirarlo cuando querían y que no tenían que responder públicamente [en la clase], los hizo sentirse más cómodos", dijo ella. "Y como yo estaba compartiendo mis propias [luchas] personales, pude establecer una relación con ellos".
Carrasco Cardona comenzó a oír de estudiantes cuyas familias padecían hambre, o cuyos padres no tenían suficientes mascarillas para ir a trabajar de forma segura. Ella y su esposo comenzaron a responder, a veces llevando los suministros necesitados a los hogares de sus estudiantes.
Aunque Carrasco Cardona no está enseñando este semestre –ocupa el cargo de coordinadora de intervención en el plantel escolar– ella todavía depende de Community Couch Time para mantener el lazo que creó con su audiencia. En episodios recientes, ha estado acompañada de otros docentes, e incluso estudiantes, en sus charlas diarias de 10 a 15 minutos, sobre temas tan diversos como la Moratoria Chicana o el Día de los Muertos.
---
ESCENA DE EAST LA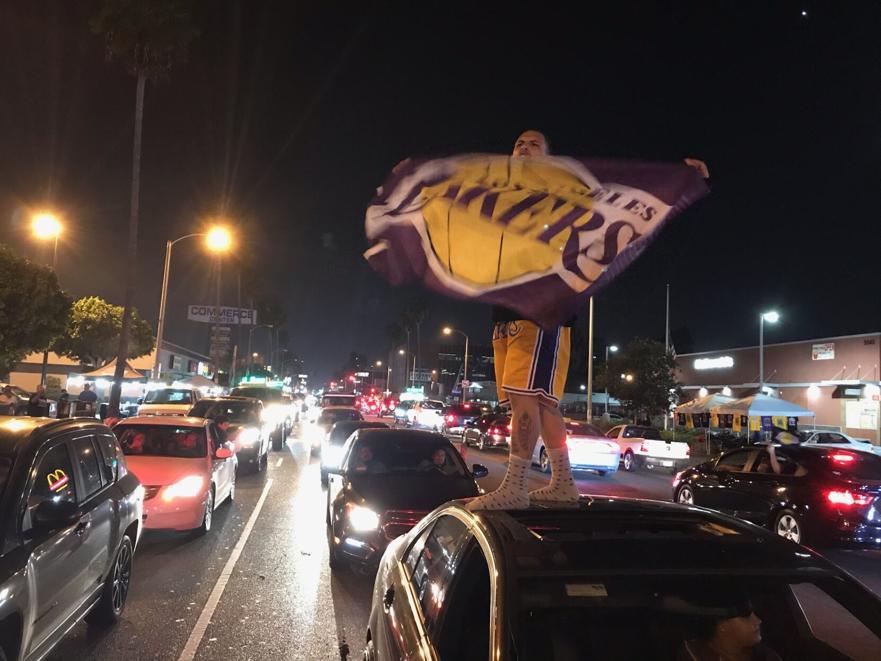 ---
RECURSOS Y ACTUALIZACIONES DEL COVID-19
Urgen a protestantes y celebrantes hacerse la prueba de COVID-19
Tras dos eventos de propagación el domingo –una marcha en pro de Armenia y la celebración del triunfo de los Lakers– las autoridades sanitarias han pedido esta semana a los que asistieron que se hagan la prueba para detectar el coronavirus.
En una declaración, las autoridades sanitarias dijeron que el COVID-19 se propaga fácilmente entre las personas que están "en contacto cercano con una persona infectada." Pidieron a cualquier persona que pasó algún tiempo en una gran muchedumbre que se haga la prueba del virus.
Estas son las más recientes cifras en East LA:
Veintitrés nuevos casos fueron reportados el martes.
Hasta el martes, un total de 6,648 casos han sido reportados en el vecindario.
En los últimos siete días, dos nuevas muertes han sido reportadas. La cifra total de decesos es ahora 110.
---
NOTITAS BREVES
Video se enfoca en las raíces en East LA de estrella del Galaxy
La novel estrella del LA Galaxy Efraín Álvarez entrevistó a sus padres en el hogar familiar en el Este de Los Ángeles en un video para conmemorar el "Mes de la Herencia Latinx".
En "The Pride of East Los Angeles: The Efrain Alvarez Story," (El orgullo de East Los Angeles: la historia de Efraín Álvaarez), el centrocampista de 18 años le pregunta a sus padres, exempleados de empacadoras de carne, que significó para ellos criar a su familia en la casa que compraron en 1992.
En el corto de siete minutos, Álvarez camina hacia el parque local donde jugó de niño y anotó goles en la arena del área de recreo. "Tienen todos los deportes menos fútbol", dice él, añadiendo que sus planes futuros incluyen construir "las canchas Álvarez", para darle a los chicos locales la oportunidad de aprender y jugar el deporte.
Dónde beber, comer y relajarse en East LA
Algunos lugares familiares aparecen en la recién publicada guía de L.A. Taco ("L.A. Taco Guide to Eating, Drinking and Chilling East of the Los Angeles River.") Opciones para beber incluyen Huerta Produce, 1689 N Eastern Ave., adónde acuden los locales para sus raspados y biónicos diarios, y Sara's Market en City Terrace, 3455 City Terrace Dr., cuya amplia selección de vinos y cervezas lo han convertido en casi legendario. Para los amantes del café está Mystix Kafé!, una instalación "pop up" que se coloca en la César Chávez entre Gage y Record y vende un café helado con sabor a horchata.
Sugerencias para comer son Thai Daily BBQ, que lleva más de 20 años en la 3552 East Cesar E Chavez Ave., y un número de vendedores ambulantes que se alinean en las esquinas de César Chávez y Rowan y venden desde mariscos estilos Sinaloa hasta donas recién fritas. Con el apetito satisfecho, el mejor lugar para descansar es el parque y lago del Centro Cívico de East LA, 4801 E 3rd St.
---
CRIMEN/SEGURIDAD
Cierran el bulevar Whittier para la celebración de los Lakers
Los fuegos artificiales irrumpieron por todo el este la noche del domingo a la vez que el área celebraba el decimoséptimo campeonato de la NBA de los Lakers de Los Ángeles. Publicaciones en redes sociales mostraron a los celebrantes portando el oro y púrpura reunidos a lo largo del bulevar Whittier. El Los Angeles Times reportó que el departamento del Sheriff ordenó el cierre de la arteria comercial para mantener bajo control las festividades. No obstante, no se reportaron arrestos ni incidentes importantes.
Muere hombre en ataque pandillero
Un hombre de 23 años murió como resultado de un aparente ataque relacionado con pandillas el 8 de octubre cerca de la intersección de Bonnie Place y la calle Sexta, justo al sur de la Autopista 60, reporta The Eastsider. Las autoridades dijeron que la víctima no identificada fue hallada inconsciente a las 7:45 pm y llevada a un hospital donde falleció de lo que aparentó ser un golpe fuerte.
---
¡Gracias por leer el boletín East LA Semanal!
No se olvide de contactarme con sus ideas, preguntas y sugerencias: antonio@theeastsiderla.com.
¡Hasta la semana próxima!
Antonio Mejías-Rentas