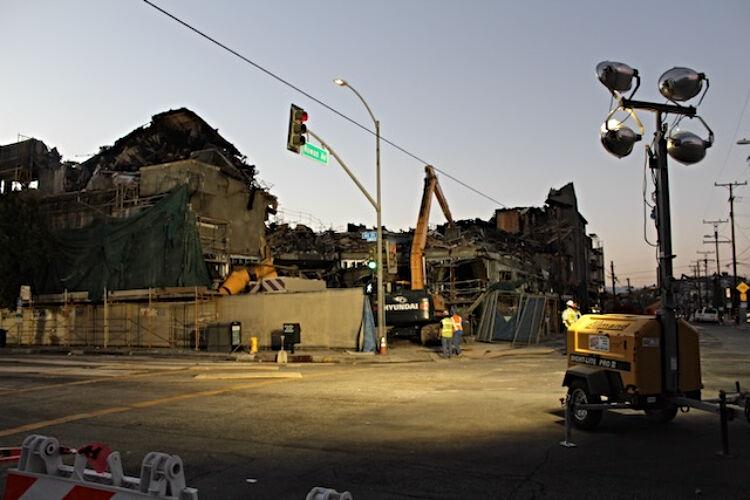 East Los Angeles - The suspect in last month's massive fire that destroyed an affordable housing project that was under construction has been identified as a 17-year-old male, and estimates of the damages are growing, officials said.
The damage from the Sept. 16 fire at  the El Nuevo El Amanecer Apartments construction project was originally thought to be $7 million, according to Det. William Osborn of the L.A. County Sheriff's Arson/Explosive division. However, that number has grown as damage to other nearby structures was added into the estimate.
Seven other neighboring buildings were damaged in the blaze, Osborn said.
The suspect is still in custody, and some hearings have already been held, Osborn said. No further information is available on the case since the matter is being handled in juvenile court.
In an email update, Manuel Bernal, president of East LA Community Corp., the developer of the project, said that "we hope this young person is treated fairly by the law," referring to the suspect. "We do not want to see more of our young people incarcerated, and we wish for justice for everyone involved."
The massive fire struck the five-story housing complex at Rowan Avenue and First Street  on Sept. 16, at about 1 a.m. as the project was only a few months away from opening. As many as 150 firefighters were deployed to fight the blaze.
The fire also damaged a house behind the apartment building when burning scaffolding landed on its roof. Also impacted were some apartments above the neighboring Unique Theater, former movie house that opened in the 1920s.
The East L.A. Community Corp., a nonprofit developer of affordable housing, broke ground on El Nuevo El Amanecer Apartments in June 2019.
The project, which was to have been completed by the end of the year, was to have 31 units of permanent supportive housing for homeless veterans, 28 units for low-income families, and two units to be occupied by managers.
---
A Note From The Publisher
Community News Matters: Support The Eastsider Fall Fundraiser
Thank you to all the readers who helped us get through the past six months by donating and becoming Eastsider sponsors. Your generosity, along with a grant from Facebook, allowed us to continue bringing you breaking news, features and extensive coronavirus coverage.
But we still need your help. To continue producing this website, we will need to rely much more heavily than in the past on support from readers like you. For that reason, The Eastsider has launched a fall fundraiser.
Please consider giving so that we can keep the Eastsider appearing on your phone, laptop and desktop computer. We're determined to keep you informed and connected to your community.
Please make your contribution by filling out the form below or click or tap here.
Sincerely,
Jesús Sanchez, Publisher