Bienvenido al Boletín East LA Semanal
En este número, miramos a una pieza de arte adorada por los fieles de City Terrace, la junta de supervisores extiende moratoria de desalojos, y East LA sale a la calle para conmemorar la Moratoria Chicana. Queremos su reacción. Contácteme con sus opiniones, ideas y sugerencias: antonio@theeastsiderla.com.
Antonio Mejías-Rentas, Editor | East LA Semanal
---
Muralista retorna para reparar un 'faro de esperanza y fe'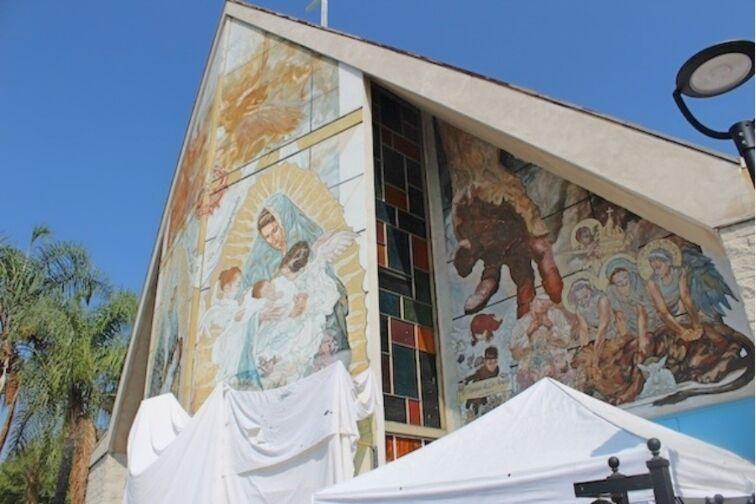 Por más de un cuarto de siglo, un mural de 50 pies de altura del pintor del Este de Los Ángeles George Yepes ha embellecido la fachada de la Iglesia de Santa Lucía en City Terrace. Eso hasta que un autobús en marzo chocara con el mural, dejando un hoyo tremendo en la sección inferior de la derecha de "El Tepeyac de Los Ángeles."
Le tomó a la iglesia de City Terrace Drive casi cuatro meses reparar la estructura, y el fin de semana pasado Yepes y un grupo de estudiantes iniciaron el meticuloso proceso de restaurar el mural de 1993.
"Por 27 años, el mural ha permanecido intacto en la comunidad y ha sido un faro de esperanza y fe para toda la gente del Este de Los Ángeles y City Terrace", dijo Yepes el martes.
El mural muestra dos imágenes de la Virgen María; una con su hijo pandillero muerto en sus brazos, la otra rodeada de pequeños querubines.
La idea le llegó a Yepes cuando el pastor de Santa Lucía le pidió una pancarta para la procesión anual de la Virgen de Guadalupe. Él tenía una visión diferente para un lienzo más grande – combinar la "Pietá" de Miguel Angel con la Guadalupana, tal y como dicta la tradición que se apareció en el cerro Tepeyac de la ciudad de México.
"Le pregunté al pastor, 'esto es lo que estoy viendo, es lo que voy a pintar – ¿es sacrilegio?'" Me dijo, 'no, no, todos hemos sido creados a la imagen de Cristo, así que el cuerpo fallecido del joven representa a Cristo y es correcto".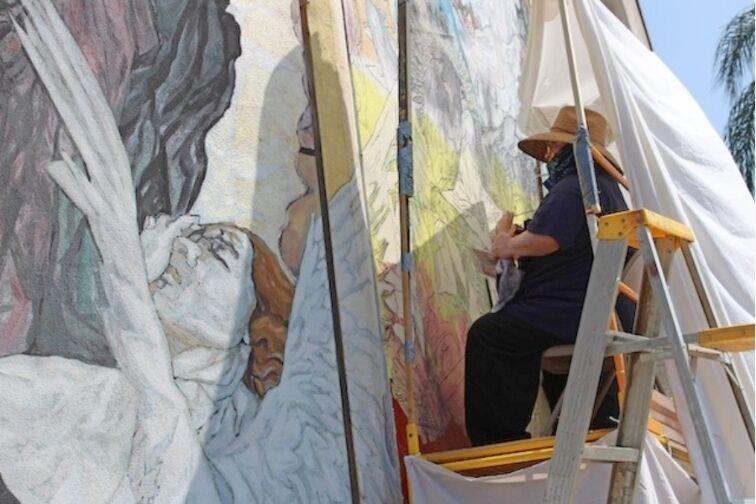 La pintura fue tan bien recibida por los feligreses que la iglesia decidió ponerla en un altar, y Yepes decidió reproducirla afuera y donarla a la comunidad".
"El Tepeyac de Los Ángeles" es uno de decenas de murales que Yepes ha pintado en vecindarios del Este, como artista individual y como miembro de varios colectivos, especialmente los East Los Streetscapers.
No debe sorprender que las imágenes religiosas se repiten en muchos de sus trabajos – su primera inspiración fue una figura en madera que él contemplaba de niño en la iglesia de Nuestra Señora de la Soledad en el Este de Los Ángeles.
"Toda las Madonnas que hago ahora y todas las mujeres que pinto, todas tienen su origen en ese niño de cuatro años arrodillado frente a esa Madonna", dice el artista natural de Tijuana, ahora a sus 64 años.
Un artista de reconocimiento mundial que comenzó a pintar murales de adolescente, Yepes abrió en 1992 su propia escuela libre de costo, donde entrena a jóvenes de vecindarios con pocos privilegios.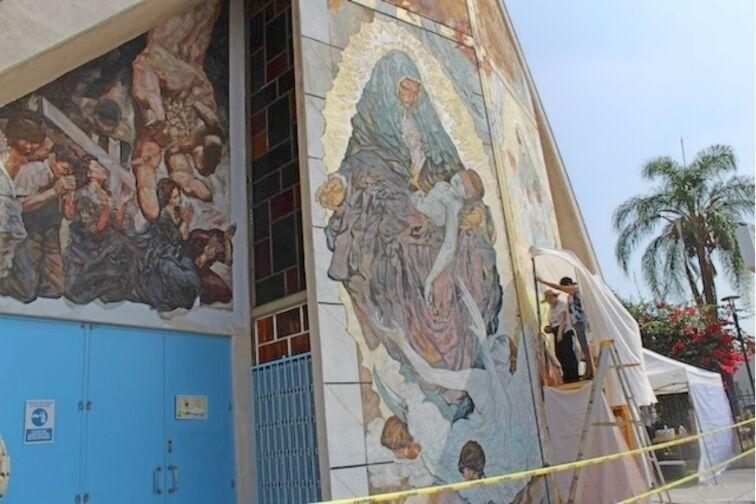 La restauración es un proyecto de entrenamiento para la Academia de Arte Yepes. Puesto que la iglesia no puede costear la restauración, estableció una cuenta gofundme para recaudar los $10,000 que necesita para pinturas, pinceles y otros suministros.
Yepes y sus estudiantes esperan tener el trabajo terminado para el 8 de septiembre – pero eso sería solamente la parte del mural afectada por el choque. A lo largo de los años, el sol y las inclemencias del tiempo le han robado lustre al mural, y el artista estima que necesitaría otros $70,000 para completar el trabajo.
Yepes está comprometido con la restauración total del mural, siempre y cuando los fondos sean recaudados.
---
Escena de East LA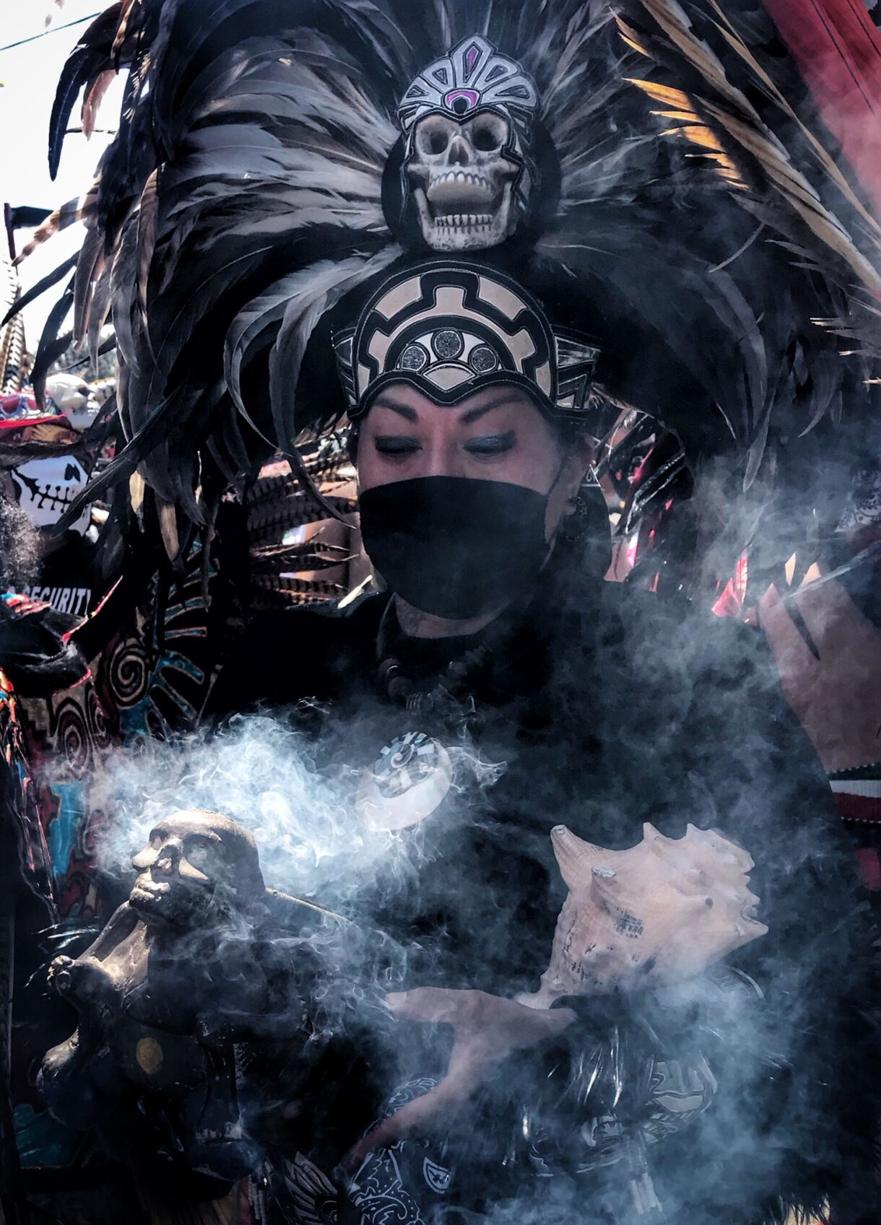 ---
RECURSOS Y ACTUALIZACIONES DEL COVID-19
Condado contempla reaperturas, advierte sobre celebraciones del feriado
Las autoridades del condado discutieron el martes la posible reapertura de centros comerciales, salones de belleza y barberías, poniendo a Los Ángeles a la par con las directrices del estado que ahora permite dichas operaciones con limitaciones, para reducir la posibilidad de contagio de coronavirus.
La discusión sucede días antes del fin de semana del Día del Trabajo, con la preocupación de que el feriado lleve a una repetición del alza en casos como la que se vio luego de los feriados de Memorial Day y el Cuatro de Julio.
He aquí las cifras más recientes para East LA:
10 nuevos casos fueron reportados el martes
Hasta el martes, un total de 5,763 casos han sido reportados en la comunidad
En los últimos siete días, 4 nuevos decesos fueron reportados. El total de decesos ahora es de 91
Se extiende moratoria de desalojos
La Junta de Supervisores votó el martes para extender la moratoria de desalojos del condado hasta el 31 de octubre e incluir en ella a todas las ciudades del condado.
La supervisora Hilda Solís, autora de la moción para extender la moratoria, dijo que la pandemia del COVID ha obligado a muchas familias a elegir entre pagar el alquiler de la renta o comprar alimentos.
La moratoria de desalojo incluye a inquilinos comerciales y residenciales, incluyendo los que alquilan espacios para sus hogares móviles. Mientras permanezca en pie, los inquilinos no pueden ser desalojados por no poder pagar la renta debido al COVID-19, ni tampoco por motivos sin culpa, de causa de molestia u ocupación no autorizada de mascotas, si estos están relacionados al COVID-19.
'Vida Pandémica' en East Los
Jake Montoya tiene múltiples responsabilidades –como director juvenil de la Biblioteca del Condado de LA y voluntario con Latino Coalition of Los Angeles y otras organizaciones. En esta serie de The Eastsider sobre cómo manejar el COVID-19, Montoya dijo que él tuvo que desechar sus antiguos horarios. "La fórmula de nueve a cinco ya no funciona en la era de COVID-19," dijo el hombre nacido en East LA. "Es muy difícil estar en casa enfocado en una sola cosa por ocho horas todos los días como si uno estuviera en la oficina, ¿verdad?
---
NOTITAS BREVES
Conmemoración del 50 aniversario de Moratoria Chicana sucede sin problemas
Cientos de personas a pie y en docenas de vehículos se reunieron en East LA el sábado para la quincuagésima conmemoración anual de la Moratoria Chicana. El LA Times reportó que los eventos del sábado fueron pacíficos y que la mayoría de los participantes llevó mascarillas y mantuvo distancias seguras, siempre que fue posible. El día comenzó con una caravana y marcha al parque Salazar. Los agentes del Sheriff brillaron por su ausencia y la dirección del tráfico estuvo a cargo de la organización comunitaria de las Boinas Cafés. La moratoria, que atrajo a cerca de 30,000 personas el 29 de agosto de 1970 y degeneró en un encuentro violento con los agentes del Sheriff, es considerado un hito en el Movimiento Chicano para los derechos civiles. Tres personas murieron, incluido el periodista Rubén Salazar.
East Los en La Plaza
Artistas y pensadores de East Los Angeles participan esta semana en la programación virtual de la serie "En Casa con La Plaza" de La Plaza de Cultura y Artes. El miércoles, 2 de septiembre a las 8 pm, el programa "Chicano Moratorium Aftermath: Four Community Forces" tendrá a artistas y educadores en una discusión de cómo el Movimiento Chicano impactó su trabajo. El viernes 4 de septiembre, la serie bisemanal de entrevistas "Dan Guerrero Happy Hour" tendrá a la mezzo soprano Suzanna Guzmán, quien dirige la Ópera de la escuela LA County High School for the Arts.
---
BIENES RAíCES
Venta de hogares en East LA
No obstante la pandemia, la venta de hogares en todo L.A. ha sido fuerte este verano, cuando los compradores han tomado ventaja de tasas de hipoteca súper bajas. En East LA (zona postal 90022), las casas para una sola familia se vendieron en julio con un precio medio de $400,000, según cifras de Corelogic. El precio medio bajó un 10% desde julio del año pasado, dijo la firma de investigación de bienes raíces. Mientras tanto, en el área de City Terrace area (zona postal 90063), 11 hogares se vendieron en julio por un precio medio de $515,000. Es un 1% menos de lo que fue en julio de 2020.
¿Es ahora un buen momento para vender un hogar en East LA?
---
CRIMEN/SEGURIDAD
El crimen esta semana
Entre los crímenes reportados la semana pasada en CrimeMapping.com hubo un hurto de automóvil tipo "carjacking" en la cuadra 300 de Ford y un trío de vehículos hurtados cerca de Whittier y Stadler.
---
¡Gracias por leer el boletín East LA Semanal!
No se olvide de contactarme con sus ideas, preguntas y sugerencias: antonio@theeastsiderla.com.
¡Hasta la semana próxima!
Antonio Mejías-Rentas