Bienvenido al Boletín East LA Semanal
En este número, damos un paseo por la docena de cines de vecindario que en su momento operaron en el Este de Los Ángeles. Se rinde tributo póstumo al legendario entrenador de East LA Al Padilla. Y celebramos el triunfo de los Dodgers con el cierre de, ¿qué más? – el bulevar.
Apreciamos sus comentarios. Favor de contactarme con sus ideas y sugerencias al correo: antonio@theeastsiderla.com.
Antonio Mejías-Rentas, Editor | East LA Semanal
---
Cuando el Este de LA iba al cine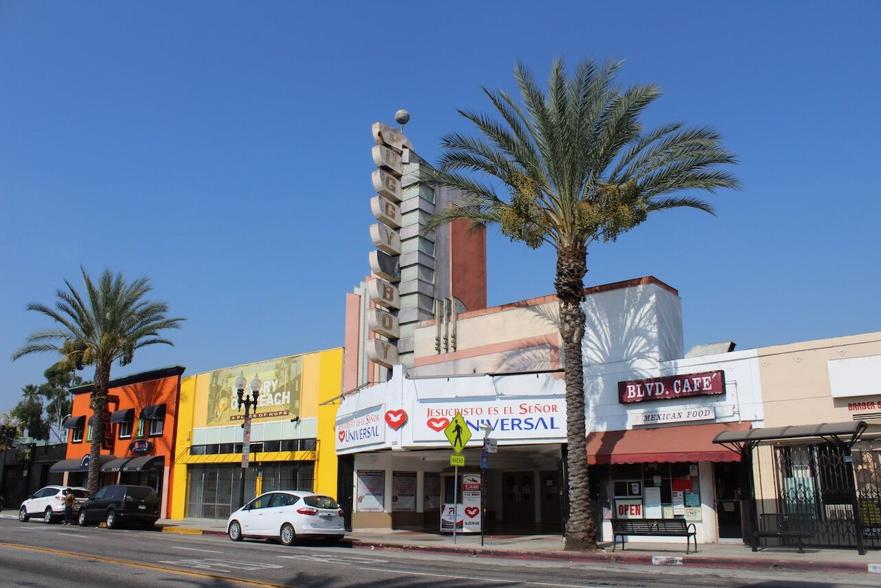 El incendio del mes pasado en el proyecto de construcción Nuevo Amanecer en la calle Primera por poco destruye el Teatro Unique, un cine de los 1920s que daba testimonio de una era cuando vecindarios como el Este de Los Ángeles eran verdaderos centros de entretenimiento.
El hermoso letrero art déco del Unique sirve como recuerdo de ese pasado. Una publicación de 2011 en Cinematreasures.org recordó que las butacas originales, la pantalla y los candelabros habían sido preservados pero escondidos. El siniestro del 16 de septiembre causó daños severos al letrero y al segundo piso, que había sido convertido en apartamentos. La extensión de los daños al primer piso es desconocida.
"Es una verdadera pérdida", dice Adrian Scott Fine, director de abogacía en L.A. Conservancy, quien señaló que el Unique era uno en una red de pequeños cines de vecindario que alguna vez existió en el sur de California.
Según Cinema Treasures, hasta 12 cines operaban en East LA en la primera mitad del siglo 20, casi la mitad de ellas destruidas para dar paso a proyectos de construcción. En la actualidad, no queda ningún cine en operación en East LA.
Lo que fue el Teatro Garden en los 1940s y 50s en Belvedere Garden es ahora el cruce debajo de una autopista en Telegraph Road. El Teatro Bonito, o Bonita, de los 1920s es ahora una imprenta en la avenida Ford cerca de la César Chávez.
Otro recinto que ya no existe es el City Terrace Cinema, que abrió en 1942 en City Terrace Drive cerca de Hazard. El bloguero George A. Verdin escribió sobre asistir "al show" en ese lugar de 1961 a 1964. Para 1967 había desaparecido y sido reemplazado por la Iglesia de Santa Lucía.
La mayor concentración de cines en East LA fue en el bulevar Whittier, desde cuando se le conocía como la calle Stephenson. Uno de los más conocidos es el Golden Gate, un gran cine en la esquina de Whittier y Atlantic que data de 1927. Construido en el estilo español churrigueresco, está incluido en el Registro Nacional de Lugares Históricos.
Tras décadas de abandono, el Golden Gate reabrió en 2012 como una farmacia CVS. Sus restauradores preservaron y almacenaron algunos de sus detalles originales, como la taquilla en forma de concha y las fuentes enlozadas. Un complejo de pequeños negocios que formaba una plazoleta frente al teatro es ahora un estacionamiento.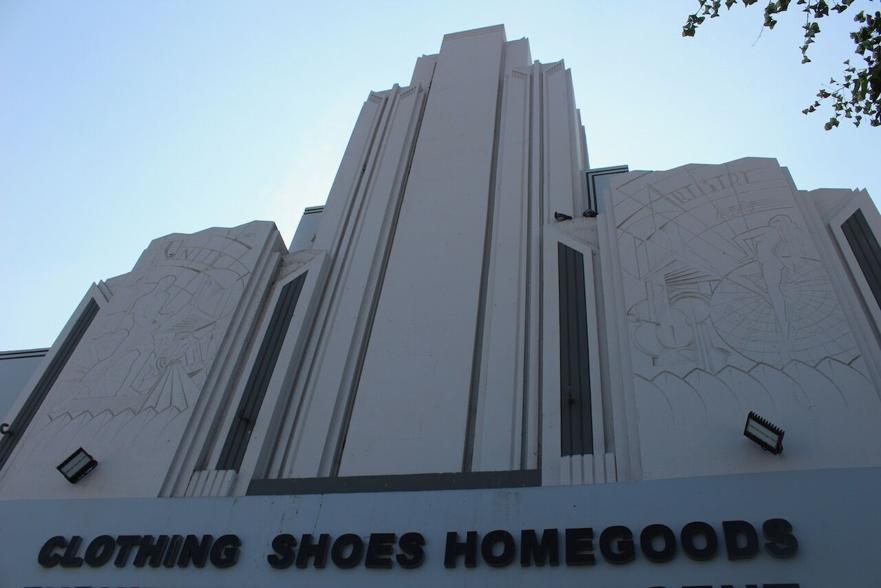 Cuando abrió la CVS el residente de East LA, C.J. Salgado, escribió para The Eastsider que podría decirle a las siguientes generaciones: "El edificio es otra cosa ahora, pero los recuerdos permanecen".
El Golden Gate estaba en un conjunto de tres cinemas. El antiguo teatro Alameda está aún erguido dos cuadras al oeste. Su fachada art déco todavía se distingue detrás de los letreros de una tienda de descuentos.
No tuvo la misma suerte el Royale, un cine de los 1940s casi al otro lado de la calle. Fue destruido para dar paso a una lavandería.
A pocas cuadras al oeste, el casi indistinguible Teatro Center operó como un cine en los años 1920s y cambió su programación a espectáculos de striptease y pornografía en los 60s y 70s. Ahora es otro negocio de descuentos.
Como muchos cines inoperantes del Sur de California, el Teatro Boulevard cerca de Whittier y McBride es ahora un centro de culto –en este caso, de la brasileña Iglesia Universal. Gran parte de la estructura ha sido conservada, incluyendo la entrada de lozas y la taquilla original, cubierta de material de proselitismo.
A la vista sobre la marquesina, el letrero "Huggy Boy" le es familiar a los "boomers" de East LA. Se refiere al DJ Dick Hugg, quien popularizó el sonido de East LA en la radio local y cuyo programa semanal "Huggy Boy Dance Show" se transmitió en KWHY en los 1970s.
Como muchos otros cines de la región, el Boulevard atravesó un periodo de películas en español en los 1980s, operado por la cadena Metropolitan Theaters. También fue visto en la cinta de 1979 "Boulevard Nights."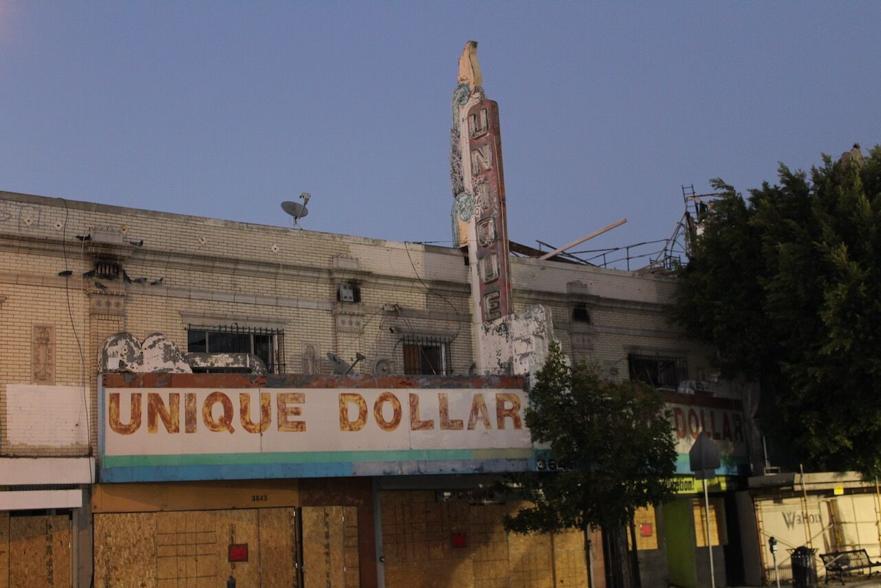 Una de las sorpresas en un recorrido por las joyas perdidas de East LA es el Strand, escondido detrás de una florería al otro lado del Cementerio del Calvario. La gran estructura de cemento, con su alto escenario que sobresale por detrás, operó como casa de vodevil en los 1910s y luego mostró películas de los 1930s a 1950s.
Cerca del final de la fila de cines en Whittier estaban el Ivy y el Jewel, cerca de Indiana. Ninguna de las estructuras sobrevive.
Mientras que el futuro del Teatro Unique es inseguro, Fine de la LA Conservancy dice que cualquier esfuerzo para preservarlo valdría la pena.
"Las generaciones más jóvenes no entienden cuán prolíficos e importantes eran [los cines]", dijo él. "Esa era tu forma de entretenimiento, donde te juntabas con tus amigos. Era parte de la dinámica de una calle comercial vibrante de un vecindario".
"Cuando y si se puede retener alguno de estos, es verdaderamente importante", añadió. "Es parte de la identidad de East Los Angeles".
---
RECURSOS Y ACTUALIZACIONES DEL COVID-19
Los jóvenes impulsan los casos
Las autoridades sanitarias advirtieron el martes que las reuniones grandes y pequeñas continúan siendo una fuente principal de transmisión de COVID-19 y señalaron a los residentes más jóvenes como la fuerza impulsora de las cifras de casos de coronavirus, que van en aumento. Dijeron además que con los feriados que se aproximan y las temperaturas más bajas, las reuniones interiores presentan un riesgo aún mayor de transmisión.
En el Este de Los Ángeles, el promedio diario de casos nuevos la semana pasada fue 25, un pequeño ingreso sobre los 21 de la semana anterior.
Estas son las más recientes cifras:
Cinco nuevos casos fueron reportados el martes.
Hasta el martes, un total de 6,797 casos han sido reportados en el vecindario.
En los últimos siete días, una sola nueva muerte ha sido reportada. La cifra total de decesos es ahora 111.
---
NOTITAS BREVES
Entrenador Al Padilla muere a los 90
Un obituario en el Los Angeles Times rindió tributo a la memoria de Al Padilla como más que una leyenda entre entrenadores en East LA. "Durante cuatro décadas, Padilla se convirtió en una institución en East L.A., enseñándole el juego a generaciones de hombres jóvenes en la preparatoria Roosevelt y luego en la rival Garfield antes de mudarse al Colegio del Este de Los Ángeles, donde llevó a los Huskies a su primer campeonato estatal.
Según el East Los Angeles Campus News, Padilla falleció el 4 de octubre por causas naturales. Fue entrenador en el campus de Monterey Park desde 1970 hasta su jubilación en 1995. Le sobreviven su esposa Dora, su hija Lisa y su hijo Steve.
Tormenta en Twitter por restaurante de East LA
Un sencillo mensaje en Twitter pidiendo RTs en apoyo a un emergente restaurante de East Los Angeles parece haber colocado a los dueños de Cocina Express, en el 4214 Floral Drive, rumbo al éxito empresarial, reportó CBS2.
Todo comenzó con este mensaje de la usuaria @mlizza_: "He visto como Twitter verdaderamente cambia las vidas de las personas, así es que lo voy a intentar. Mi esposo abrió un pequeño restaurante llamado Cocina Express justo cuando comenzó el COVID. Ha sido difícil. Un simple RT significaría el mundo". Hasta el martes, el Tuit del 17 de octubre tenía más de 69,000 "likes" y 42,000 "retuits", además de docenas de respuestas principalmente positivas, ofertas de ayuda y hasta donaciones.
---
CRIMEN/SEGURIDAD
No en el bulevar – una vez más 
De dónde viene tanto cohete, uno se pregunta. El domingo, cuando los Dodgers de L.A. aseguraron su posición en una Serie Mundial por tercera vez en cuatro años, la ruidosa demostración era de esperarse. Y en East LA, los fanáticos se apresuraron a dar el paseo en el bulevar.
El Departamento del Sheriff estaba listo. ¡Whittier está cerrado!! Publicó la cuenta de Twitter @EASTLA_NEWS a las 9:30 pm, junto a una foto de pantalla mostrando al helicóptero de NBC 4 sobre la calle bloqueada y alineada con patrullas de los agentes.
Segundo homicidio en octubre
Un hombre que fue hallado con heridas de tiros dentro de un vehículo cercano a la comunidad de vivienda Maravilla en las primeras horas del sábado murió después en un hospital, reportó The Eastsider.
Fue hallado cerca de la esquina de Mednick y Colonia de los Pinos por los agentes del Sheriff, que recibieron la llamada a las 12:10 am. El nombre de la víctima no se divulgó y el tirador desconocido no ha sido detenido.
El 8 de octubre, un hombre hallado en la calle cerca de la Sexta y Bonnie Beach Place sufriendo de trauma por un golpe fuerte murió de sus heridas.
---
¡Gracias por leer el boletín East LA Semanal!
No se olvide de contactarme con sus ideas, preguntas y sugerencias: antonio@theeastsiderla.com.
¡Hasta la semana próxima!
Antonio Mejías-Rentas