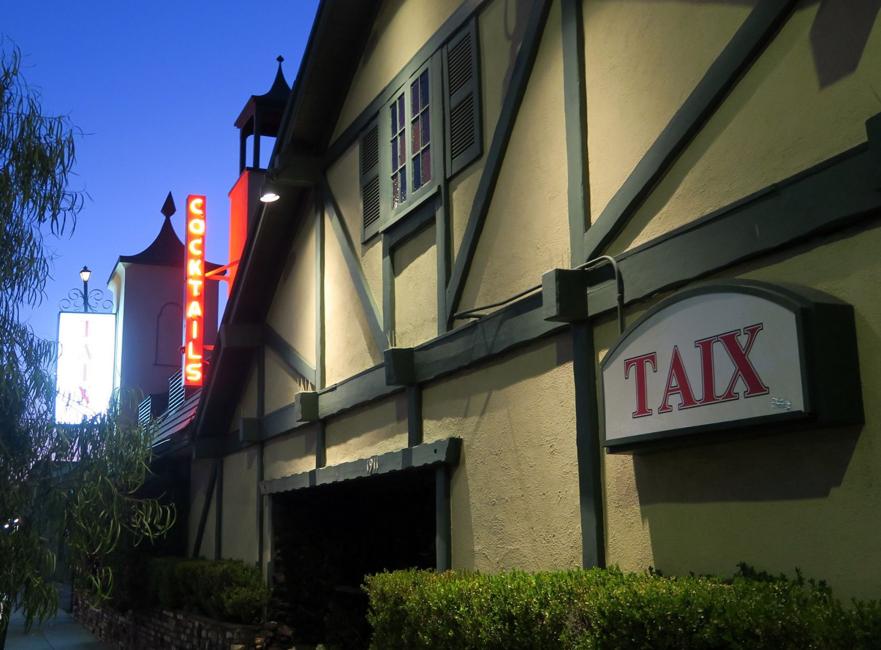 Echo Park - The Taix French Restaurant building is now officially under consideration as a historical landmark - with all the complications this particular monument would carry with it.
The Cultural Heritage Commission voted Thursday to officially take the property at 1911-1929 W. Sunset Blvd. under consideration - with Commission President Richard Barron noting that most projects that come before the commission pass this basic entrance ritual.
Now the hard part - deciding whether to declare the building or the business  landmark. That's the choice unless someone can figure out how to do both, in defiance of all prior discussion.
The owner of Taix Restaurant, Mike Taix, who has sold the property to a developer who wants to demolish the building, has said he cannot continue the restaurant in the current building. If the site is preserved, Taix Restaurant itself won't be part of it, and the building will stand as a monument to a business that isn't there anymore, he said.
Mike Taix has proposed, alternatively, that the Taix business - rather than the building - be declared historical. In the meantime, under a developer's plan, the building itself would be knocked down and replaced with a complex of five- and six-story structures, with about 170 units of housing and ground-floor commercial space, which would include a spot for a scaled-down version of Taix Restaurant.
"Preservation of the Taix French Restaurant as a historic-cultural resource requires that it be able to respond to economic and social challenges that compel changes in its current physical premises," Mike Taix said in a statement last month.
Though Thursday's hearing only dealt with merely adding this application to the Cultural Heritage Commission's workload, commission members and other city officials inevitably got drawn into this larger debate. They pondered how the development plan might be changed, or how Mike Taix's idea to preserve the business without the building might work.
Ken Bernstein, L.A.'s principal city planner, noted one example of a business monument: A historical marker for the site of Walt Disney's original animation studio in Los Feliz. The studio building itself it now gone - replaced with a Gelson's market.
---
A Note From The Publisher
Community News Matters: Support The Eastsider Fall Fundraiser
Thank you to all the readers who helped us get through the past six months by donating and becoming Eastsider sponsors. Your generosity, along with a grant from Facebook, allowed us to continue bringing you breaking news, features and extensive coronavirus coverage.
But we still need your help. To continue producing this website, we will need to rely much more heavily than in the past on support from readers like you. For that reason, The Eastsider has launched a fall fundraiser.
Please consider giving so that we can keep the Eastsider appearing on your phone, laptop and desktop computer. We're determined to keep you informed and connected to your community.
Please make your contribution by filling out the form below or click or tap here.
Sincerely,
Jesús Sanchez, Publisher