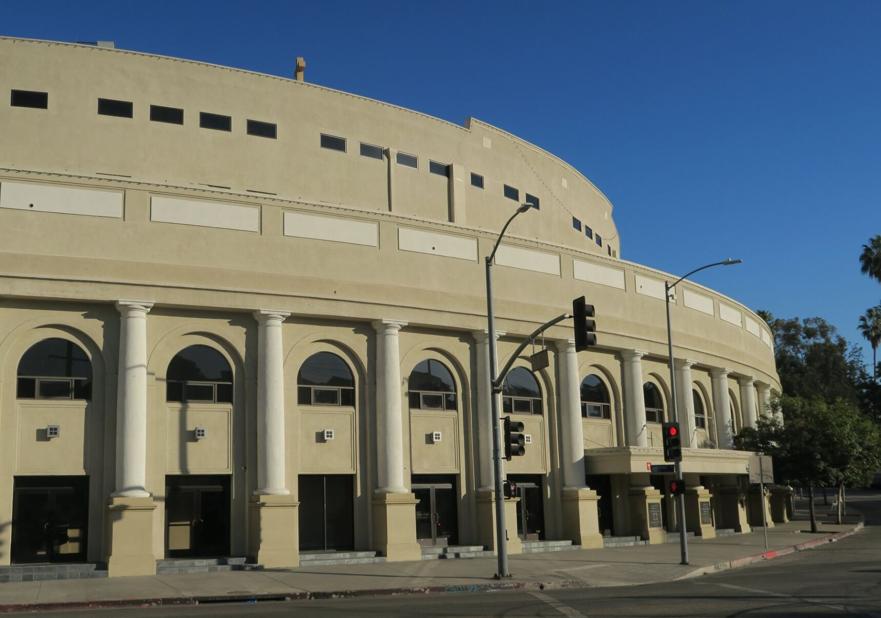 Echo Park - Angelus Temple is once again filled with preaching, prayers and singing after the landmark church across from Echo Park Lake started holding in-person worship services again this month. 
But it's not clear how Angelus Temple -- with a capacity of 3,500, according to the church website --  is managing to hold the indoor gatherings, sermons and live musical performances in light of state and county bans on indoor worship services.
The indoor services have resumed amid a statewide surge in COVID-19 that has forced officials to impose more restrictions on businesses and gatherings. 
County health protocols state that "Indoor religious services and cultural ceremonies at places of worship are prohibited until further notice by the State Public Health Officer."
A brief statement to The Eastsider from the L.A. County Department of Public Health said, "Per our department, there are no indoor services allowed." But some churches, such as Grace Community Church in Sun Valley, have defied those orders.
In Echo Park, Angelus Temple held its first in-person service in about 8 months on Nov. 1.  YouTube videos and social media photos of the indoor church services featuring pastor Matthew Barnett show masked parishioners in the main sanctuary under the church's dome.
"I can't believe .... we are really here today," said Barnett in a YouTube video of the Nov. 1 service, which featured a live band and a large group of mostly unmasked parishioners cheering on stage. "It's been so long. Eight months is an eternity. But I'm so glad to see you."
The church has outlined restrictions on attendance. There is only one entrance — from the courtyard area by the parking structure. Their web page indicates they are taking temperatures at the door, masks are encouraged, and seating is socially distanced.
The services also include lively musical performances with several singers without face coverings on stage. Singing indoors is also prohibited by state orders because it "increase the release of respiratory droplets and fine aerosols into the air" that can carry the virus, according to California Department of Health. 
The Eastsider contacted Angelus Temple several times but received no response. Tony Arranaga, a spokesman for City Councilman Mitch O'Farrell, said the Council District 13 office had not been aware of the services, and is reaching out to the church for more information.
---
A Note From The Publisher
Community News Matters: Support The Eastsider Fall Fundraiser
Thank you to all the readers who helped us get through the past six months by donating and becoming Eastsider sponsors. Your generosity, along with a grant from Facebook, allowed us to continue bringing you breaking news, features and extensive coronavirus coverage.
But we still need your help. To continue producing this website, we will need to rely much more heavily than in the past on support from readers like you. For that reason, The Eastsider has launched a fall fundraiser.
Please consider giving so that we can keep the Eastsider appearing on your phone, laptop and desktop computer. We're determined to keep you informed and connected to your community.
Please make your contribution by filling out the form below or click or tap here.
Sincerely,
Jesús Sanchez, Publisher