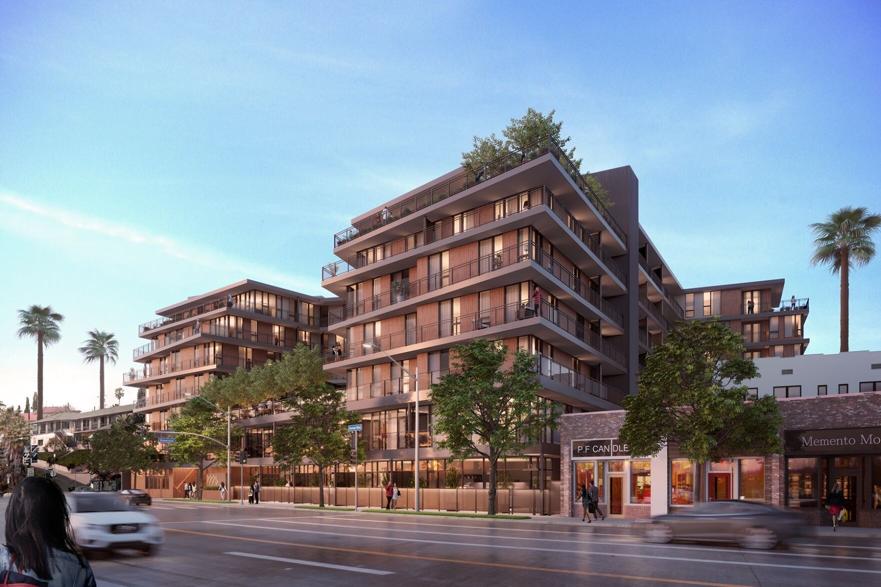 Echo Park - We're getting our first look at the 176-unit apartment complex complex that's being proposed for Sunset Boulevard near Mohawk Street.
Plans for the structure on the 2200 block of Sunset Boulevard have been submitted to the city's planning department by Michael Sorochinsky, founder and CEO of Cypress Equity Investments.
Currently titled 2225 Sunset, the project does not include any commercial space, but does include five live/work units on the ground level along Sunset, according to a spokesman for the project, Brian Lewis. Amenities include co-working space, two community rooms, an indoor gym that opens to the courtyard to accommodate outdoor exercise, outdoor courtyards and two landscaped roof decks, Lewis said.
Eighteen of the units are to be earmarked as extremely low income, Lewis said. The building is being pitched as a Transit Oriented Community project, a designation that allows for exceeding density limits under existing zoning in exchange for reserving a percentage of units for low-income renters.
Properties in the project include 2217-2235 Sunset Blvd. and 2216-2218 W. Elsinore St., which were purchased on on Feb. 18 for $16.4 million. The remaining property, 1121 N Mohawk St., was purchased separately that same day for $1.2 million.
Plans call for demolishing the six buildings that are currently on site - all of them built between 1910 and 1935.
This is much the same location as a proposed 62-unit housing project from around 10 years ago, which never ended up coming to fruition. One complaint about that project is that it only had 10 affordable units, which would not have been enough to replace the affordable housing that would have been lost.
---
A Note From The Publisher
Community News Matters: Support The Eastsider Fall Fundraiser
Thank you to all the readers who helped us get through the past six months by donating and becoming Eastsider sponsors. Your generosity, along with a grant from Facebook, allowed us to continue bringing you breaking news, features and extensive coronavirus coverage.
But we still need your help. To continue producing this website, we will need to rely much more heavily than in the past on support from readers like you. For that reason, The Eastsider has launched a fall fundraiser.
Please consider giving so that we can keep the Eastsider appearing on your phone, laptop and desktop computer. We're determined to keep you informed and connected to your community.
Please make your contribution by filling out the form below or click or tap here.
Sincerely,
Jesús Sanchez, Publisher