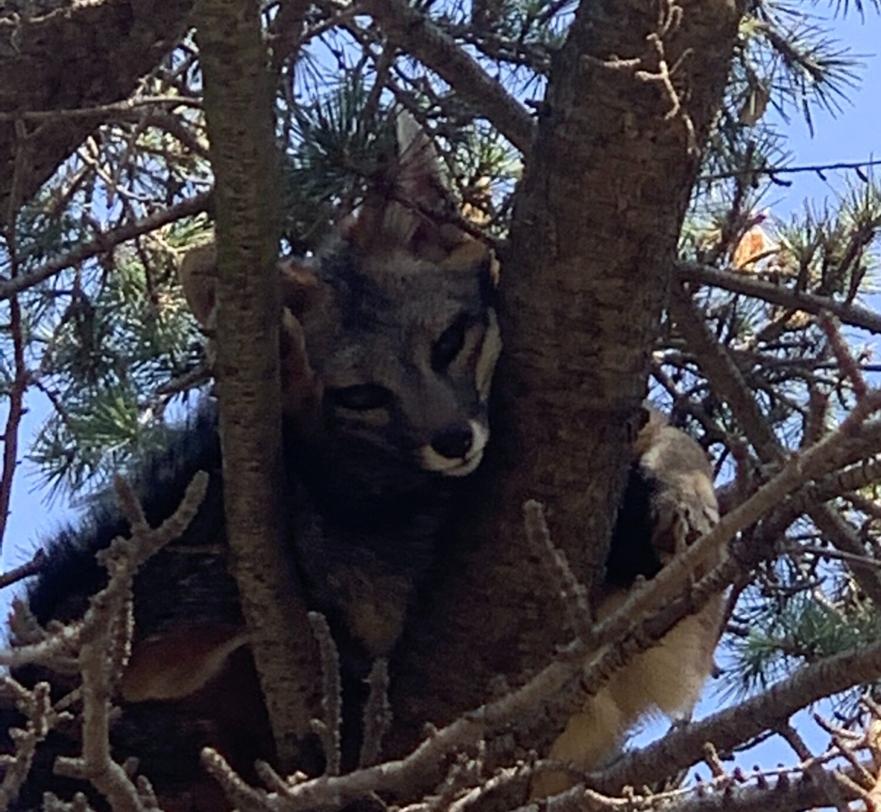 Echo Park -- Jeffrey Kleeger noticed a raven going crazy going around a tree next to Elysian Park. He looked up to see what the fuss was all about and there, up high hanging out on a branch, was a fox.
It's fairly common to see coyotes roaming the streets of Echo Park and trails of Elysian Park. Bobcats have even been spotted. But some longtime residents familiar with Elysian Park say they have never seen a fox in the neighborhood.
"I went back to my truck to grab my phone so I could take a photo," said Kleeger who spotted the fox at Park Drive at Ewing Street on Monday afternoon. "Luckily he/she was still there."
Foxes have been spotted in Griffith Park, so a fox in Elysian Park wouldn't be out of the question. 
Update: Miguel Ordeñana, manager of the Community Science Program at the L.A. County Natural History Museum, provided his take on this fox sighting:
"This is an amazing photo and perfectly captures the uniqueness of this canid species. A gray fox was brought to my attention by a local resident that lives just outside Corralitas Red Car Property just outside of Elysian park in 2013. I then made an attempt to photograph one in the park with a camera trap. It took about a year but then I documented one in 2015. They are not commonly seen because they are shy, small, and yes have the ability to be arboreal. They are one of only two dog species in the world, the other being the raccoon dog, that can climb trees. It has cat-like claws that allow it to climb up trees for refuge and shelter. Coyotes are the dominant carnivore throughout most of L.A.'s urban core and directly compete with gray foxes. As we all are aware coyotes occupy most neighborhoods and parks in L.A., so gray foxes are able to persist in some parts of L.A. by remaining elusive and using their ability to climb to escape coyotes and other dangers."
---
A Note From The Publisher
Community News Matters: Support The Eastsider Fall Fundraiser
Thank you to all the readers who helped us get through the past six months by donating and becoming Eastsider sponsors. Your generosity, along with a grant from Facebook, allowed us to continue bringing you breaking news, features and extensive coronavirus coverage.
But we still need your help. To continue producing this website, we will need to rely much more heavily than in the past on support from readers like you. For that reason, The Eastsider has launched a fall fundraiser.
Please consider giving so that we can keep the Eastsider appearing on your phone, laptop and desktop computer. We're determined to keep you informed and connected to your community.
Please make your contribution by filling out the form below or click or tap here.
Sincerely,
Jesús Sanchez, Publisher