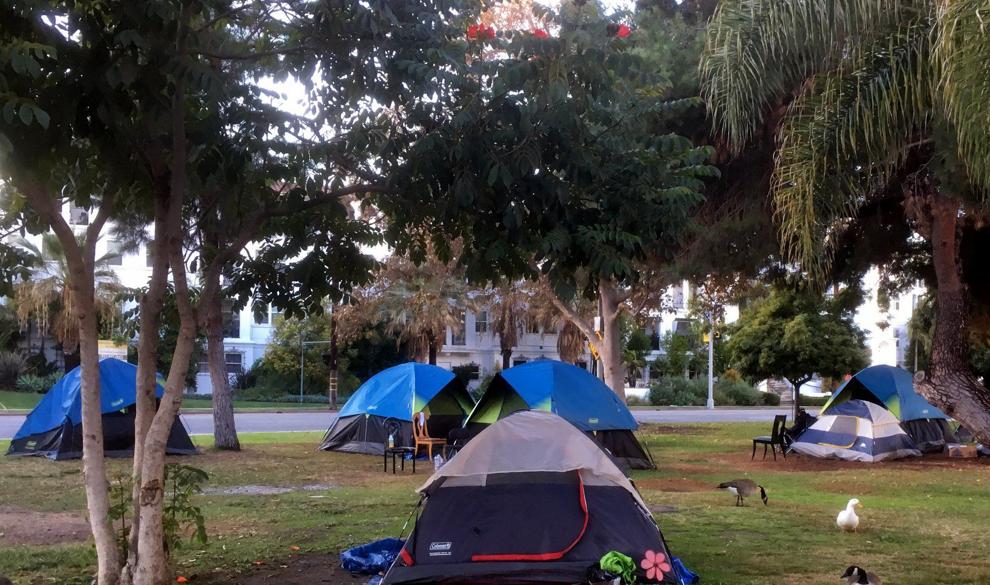 Echo Park -- A group of homeless advocates and other activists protested what they said was the planned removal of a large encampment at Echo Park Lake this morning. But city officials denied there were any plans to move the homeless off park grounds
Posts on Twitter by homeless advocates and reporters showed protestors had gathered on the west side of the lake where numerous tents have popped up in recent months along the Glendale Boulevard side of the park.
Some homeless persons told ABC7 that they had been notified to remove personal property from the park by 7 a.m. Activists claimed that 13th District Councilman Mitch O'Farrell had ordered a sweep of homeless people from the lake.
However, O'Farrell, in his own Twitter post, denied the claim, saying that "nothing could be further from the truth — I did not direct nor was my office aware of any action taking place at the park."
The LAPD added that "there was no scheduled clearing of Echo Park by LAPD personnel today." But FilmLA, the company charged with overseeing filmshoots, "did issue a filming permit for the park later this week," said LAPD.
A park ranger told NBC4 that notices warning of the clean up by park rangers were fakes. There are no plans to force the homeless to move unless the Nike, which is filming a commercial in the park later this week, requests it as part of their filming permit, according to NBC4.
A group of homeless advocates showed up this morning to protect the homeless community at Echo Park Lake from a major sweep. #echopark #homelessness #homelessnesscrisis pic.twitter.com/laTA4m6peU

— Sophie Flay (@abc7sophie) January 13, 2020
Crews have not started clearing out the #homeless here in #EchoPark. But protesters are getting their signs ready. You can see the tents in the bs kground. @KNX1070 pic.twitter.com/XMFfQ0BZXx

— Jon Baird (@KNXBaird) January 13, 2020