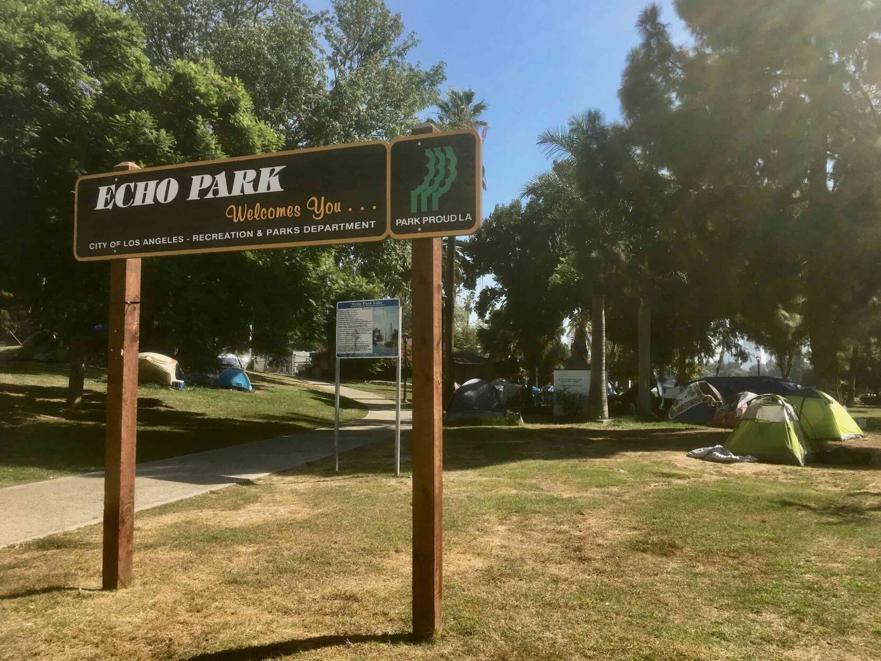 Echo Park - A 30-year-old man was found dead on Thursday morning at Echo Park Lake near Glendale Boulevard and Park Avenue, in the area of a homeless encampment, the county coroner and police said. It's the third death at the lake's homeless encampment lake in recent months.
Scott Murphy, a male Caucasian, was pronounced dead at 09:15 am Thursday. He would have turned 31 on Oct. 26. 
The coroner confirmed that he was homeless, and LAPD's Rampart's division confirmed that he was found inside the park. This area at the northwest corner of the park has a longtime homeless encampment that has since spread down the west wide of the lake.
The cause of death has not yet been determined.
This story was first reported by Los Angeleno.
Murphy is the third person found dead by the Echo Park Lake encampment area since the beginning of summer. It's not known if he lived at the lake or happened to be in the area when he died.
The first, Andrew Kettle, died in his tent on the north side of the lake on June 16, shortly after being examined by paramedics, who left after saying he was suffering from alcohol withdrawal and needed to "sleep it off," KCRW reported.
On August 9, 18-year-old Brianna Moore died from an accidental overdose involving cocaine and fentanyl. Though she was found in a tent by the lake, she was in fact merely visiting from her home in Oceanside.
---
A Note From The Publisher
Community News Matters: Support The Eastsider Fall Fundraiser
Thank you to all the readers who helped us get through the past six months by donating and becoming Eastsider sponsors. Your generosity, along with a grant from Facebook, allowed us to continue bringing you breaking news, features and extensive coronavirus coverage.
But we still need your help. To continue producing this website, we will need to rely much more heavily than in the past on support from readers like you. For that reason, The Eastsider has launched a fall fundraiser.
Please consider giving so that we can keep the Eastsider appearing on your phone, laptop and desktop computer. We're determined to keep you informed and connected to your community.
Please make your contribution by filling out the form below or click or tap here.
Sincerely,
Jesús Sanchez, Publisher