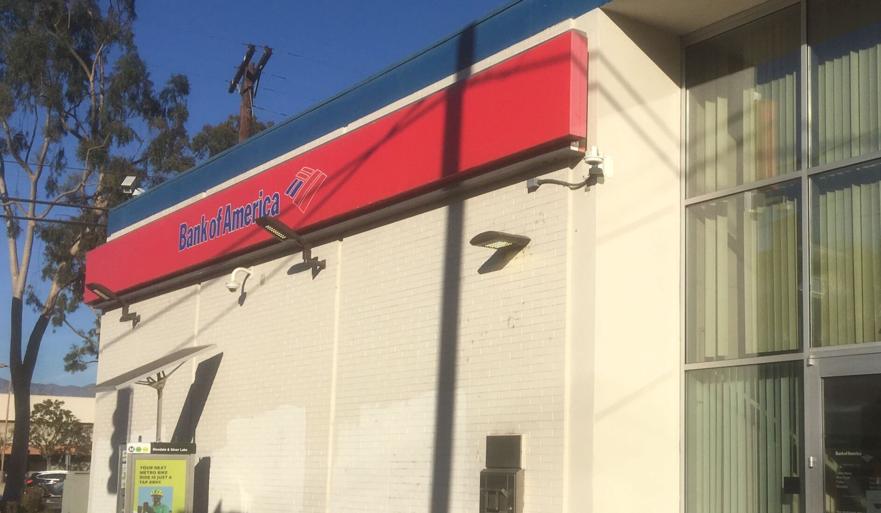 Several Bank of America branches from Boyle Heights to Los Feliz have been temporarily closed while other big banks cut back on hours or are requiring appointments to enter.
The closures have taken place as COVID-19 cases and deaths skyrocket. But banks for the most part are not saying what's behind the closures. A batch of closures took place several months ago during the summer surge.
On Tuesday, some Echo Park residents received a text from Bank of America saying "Financial Centers in your area may be temporarily closed or hours may be modified." 
A check of the bank's website on Wednesday showed that about half the Bank of America branches on the Eastside were closed, including offices in Boyle Heights, Echo Park and Silver Lake (see the list below)
Other banks in the area also report closures and modified hours.
Wells Fargo requires appointments for several branches, and closed its Atwater Village bank. Citibank has changed hours in some locations, and is temporarily closed in Echo Park.
Most ATMs are still open.
Bank of America's list of locations includes at least five nearby branches that are listed as temporarily closed:
Sunset-Echo Park - 1572 W Sunset Blvd, Echo Park
Silver Lake-Glendale - 2420 Glendale Blvd, Silver Lake
Franklin and Hillhurst - 4510 Franklin Ave, Los Feliz
Vermont-Hollywood - 1715 N Vermont Ave, Los Feliz
Soto-Hostetter - 1308 S Soto St, Boyle Height
Financial centers that are still listed as open in our area include Lincoln Heights location at 2400 N Broadway, a Chinatown branch at 850 N Broadway, Eagle Rock at 2263 Colorado Blvd., Boyle Heights at 2305 E Cesar E Chavez Ave., and Highland Park at 5515 N Figueroa St.
Update on Friday, Dec. 18: A Bank of America spokeswoman provided this statement regarding the closures:
"We continue to take several steps to support our clients and employees during the health crisis, including some temporary financial center closures. Our temporary financial center closures have occurred in areas where we're seeing fewer visits; where a smaller location may be close to a larger location that is better able to accommodate physical distancing; or when our staffing is not sufficient for all to remain open (for example, if employees find themselves needing to take time off to care for family members or if someone becomes high risk due to a preexisting condition). Please know that when a center closes we work to reopen it as soon as possible."