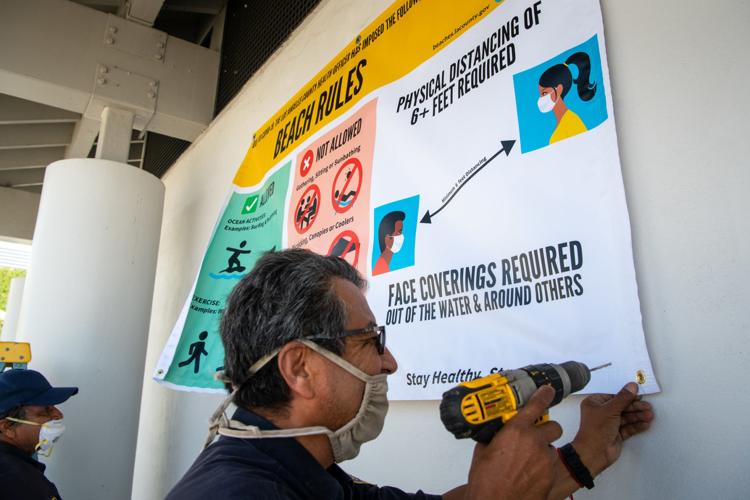 Another four dozen coronavirus deaths were reported in Los Angeles County today as more businesses were permitted to reopen with restricted operations.
But health officials again warned that more open businesses means more public interaction and the threat of spiking COVID- 19 case numbers.
Barbara Ferrer, director of the county Department of Public Health, also again stressed the lethal nature of the coronavirus, calling it vastly more deadly than the flu. So far more than 1,700 people in L.A. County have died from coronavirus this year.
"On average, we lose about 250 lives to influenza every year, and you can understand why the mortality rate of COVID-19 is so worrisome, because it far exceeds what we're normally used to seeing with a virus or a communicable disease," Ferrer said.
Ferrer reported 51 more deaths due to coronavirus today, although four of those deaths were reported Wednesday afternoon by health officials in Long Beach and Pasadena. Long Beach today announced another two deaths.
The new deaths boosted the county's total to 1,711. About a month ago, COVID-19 was proclaimed the leading cause of death in Los Angeles County, topping the flu, lung disease and heart disease.
Ferrer also stressed that the coronavirus can be lethal to people of all age groups, particularly those with underlying health conditions. Of the people who have died in the county, 92% had underlying health conditions.
"So if you have a chronic health condition ... please take a moment to try to make sure that you will be able to continue to stay at home as much as possible."
More than 35,000 cases confirmed
Ferrer announced 925 new confirmed cases of the coronavirus, while Long Beach added another 63, lifting the overall county number to 35,392.
The county has revised health order that allows all retail businesses in the county to reopen for curbside pickup only. Customers are not allowed to go into the businesses. Retailers located inside enclosed shopping malls are still barred from reopening.
Recreational facilities such as equestrian centers, tennis and pickleball courts and community gardens will reopen Friday, with restrictions including face coverings, social distancing and limits on visitors.
On Wednesday, Los Angeles Mayor Eric Garcetti announced that all residents are now required to wear a cloth face covering when outside the home. The city of Santa Monica issued a similar order Wednesday.
Face Mask Guidelines
Ferrer said the county's health order is similar, although it falls short of requiring residents to wear face coverings at all time. The county order mandates face coverings if residents are outside of the home and in contact with other people who are not members of their own household. They are also required at grocery stores and other retailers, and anywhere that other people are gathered.
"Any time you're out and there are people around, whether it be at a trailhead or a parking lot or on a sidewalk, you will need to wear your cloth face covering," she said.
Dr. Christina Ghaly, the county's health services director, said the county's Safer At Home health order that requires business closures, social distancing, face coverings and staying at home as much as possible, has dramatically reduced the virus' impact, even though case and death numbers continue to rise.
But she warned of the danger of rapidly reopening all businesses and attempting to return to "normal" life.
"If we simply go back to work and life as it was before, because so many of us across the county are still susceptible to COVID-19, then we will experience a rapid increase in cases, and that will require drastic action that none of us want to revisit," she said.
Guidance
Public Health has issued the following guidance for people with mild illness during this time of increased spread:
• Stay at home whenever possible and practice social distancing -- keep at least six-feet away from others when you leave your home.
• Wash your hands with soap and water as frequently as possible for at least 20 seconds. Use hand sanitizer when water is not available. 
• The general public should wear non-medical face coverings when interacting with others while obtaining essential supplies and services.  You should not purchase hospital-grade masks, which are in short supply and desperately needed in hospitals. People can use scarves or other fabric, suggesting that people go online for instructions on how to fashion a homemade mask.
• If you are mildly sick, stay home for at least seven days and until 72 hours after being fever and symptom free. Call your doctor if you are concerned and/or your symptoms worsen. Individuals who are elderly, have underlying health conditions or pregnant should consider contacting their providers earlier when they are sick.
Additional things you can do to protect yourself, your family and your community are on the Public Health website.