One of the tighter Los Angeles area congressional races in Tuesday's election turned out to be in 34th Congressional District, which includes most of Northeast LA as well as Boyle Heights and Historic Filipinotown.
Incumbent Democrat Jimmy Gomez seemed to be fending off a strong challenge from fellow Democrat David Kim, who billed himself as a more progressive choice and derided his rival's platform as "faux-gressive". Gomez had 52.59% to Kim's 47.41%, according to early returns.
"We could still very likely unseat the incumbent," Kim said in a statement issued today. "We will continue to monitor the results and keep you, the voters, informed."
Kim's strong showing comes despite raising substantially less than the incumbent. Gomez raised more than $1.25 million while Kim's contributions amounted to only about $178,000, which includes a loan Kim made to his own campaign , according to federal election fundraising records.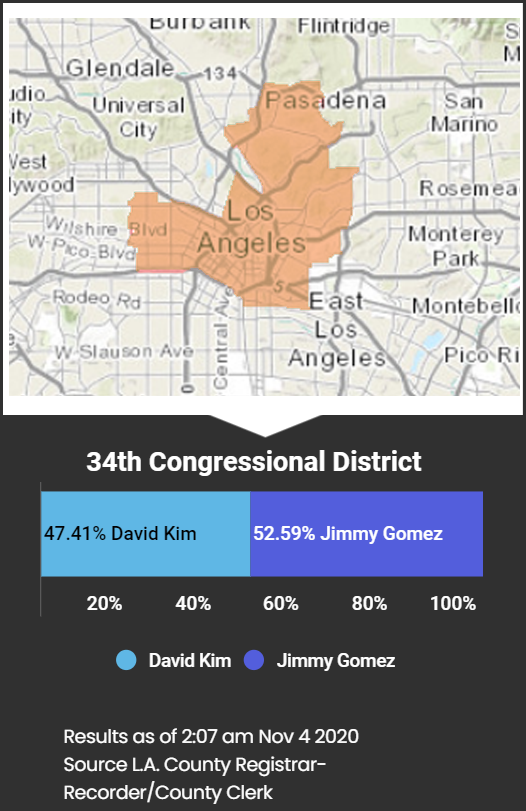 Kim is an attorney who used to work for the LA County District Attorney before shifting into entertainment and immigration law. The son of Korean immigrants has aligned himself with tenant and homeless rights groups and supports Medicare for All efforts and a minimum monthly income for $1,000 for every resident.
"Right now, an unconscionable portion of our budget is designated to police and military, which actively abuse our most vulnerable residents," Kim said in a statement on Ballotpedia.
Gomez, the son of Mexican immigrants, is a former political director for a nurses union who first served in the state assembly before he was elected to Congress in 2017, filling the seat left vacant when Xavier Becerra became California's attorney general. He also supports Medicare for All, the Green New Deal climate-change initiative and criminal justice and immigration reform efforts.
"As a working-class progressive, I am helping lead a new generation of Democrats, fighting for and delivering change," Gomez said in his Ballotpedia statement.
---
A Note From The Publisher
Community News Matters: Support The Eastsider Fall Fundraiser
Thank you to all the readers who helped us get through the past six months by donating and becoming Eastsider sponsors. Your generosity, along with a grant from Facebook, allowed us to continue bringing you breaking news, features and extensive coronavirus coverage.
But we still need your help. To continue producing this website, we will need to rely much more heavily than in the past on support from readers like you. For that reason, The Eastsider has launched a fall fundraiser.
Please consider giving so that we can keep the Eastsider appearing on your phone, laptop and desktop computer. We're determined to keep you informed and connected to your community.
Please make your contribution by filling out the form below or click or tap here.
Sincerely,
Jesús Sanchez, Publisher