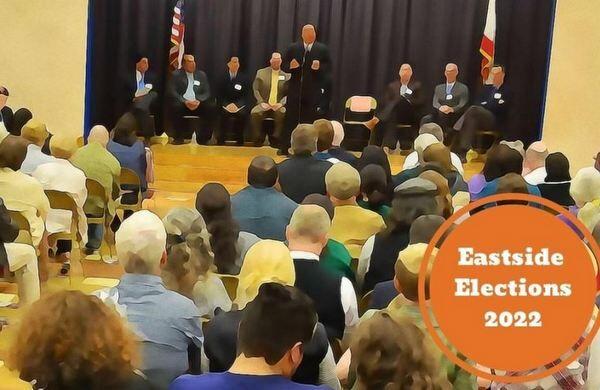 Community activist and public policy advocate Eunisses Hernandez again widened her lead in her bid to unseat Los Angeles City Councilman Gil Cedillo, while the race for Los Angeles city attorney saw a new candidate move into position to advance to the November runoff, according to updated election results released today.
According to the latest tally of ballots from the June 7 election, Hernandez had a 2,389-vote lead over Cedillo in the race for the District 1 seat. That's up from 2,019 last Friday, when the last update was released by the Los Angeles County Registrar-Recorder/County Clerk's Office.
The updated results give Hernandez 54.03% of the vote, while Cedillo has 45.97%. The race includes only two candidates and will be decided once all votes are counted.
Meanwhile, in the Council District 13 race, labor organizer Hugo Soto-Martinez maintained his lead over Councilman Mitch O'Farrell.  As of today, Soto-Martinez had 40.64% of  the vote vs 31.65% for O'Farrell. Both are headed to a runoff at this point. 
In the race for city attorney, civil rights attorney Faisal Gill was leading the seven-candidate field with 136,977 votes, or 24.23%. But in the race for second place -- and a trip to the November runoff election -- financial law attorney Hydee Feldstein Soto overtook former federal prosecutor Marina Torres in a neck-and-neck race.
The latest results showed Soto with a 351-vote lead over Torres, collecting 19.92% of the vote, compared to Torres' 19.85%.
Meanwhile, mayoral candidate Rep. Karen Bass again widened her lead over billionaire real estate developer Rick Caruso -- although the pair are still headed for a November runoff.
Initial election results from the June 7 vote showed Caruso in the lead, but when the latest tally was released Tuesday afternoon, Bass had 43.14% of the vote, with Caruso at 35.98%. With no candidate receiving more than 50% of the vote, the top two finishers will advance to the November general election.
The next vote-counting update is set to be released Friday.
There are still an estimated 74,100 ballots still left to be counted countywide from the June 7 election, according to the county Registrar- Recorder/County Clerk's office. The next update of vote totals will be released on Tuesday
Here is what's going on in other Eastside races based on today's update:
• District 2 School Board: Rocio Rivas, a policy advisor to school board member Jackie Goldberg, continued to maintain her lead over education advocate Maria Brenes. Both are headed to a November runoff.  
• 30th Congressional District: Congressman Adam Schiff maintained his sizeable first-place lead, with updated results showing him with more than 62% of the vote. In the battle for second, Silver Lake Neighborhood Council member and trans candidate Maebe A. Girl remains ahead of Republican Ronda Kennedy.  If Girl remains in second place in the final results, she and Schiff will face off in the November 7 general election.
Go here to view all updated  L.A. County election results.
Council District 1 includes all or part of Cypress Park, Glassell Park, Lincoln Heights and other communities.  
---
Council District 13 includes all or part of Atwater Village, Echo Park, Hollywood, Silver Lake and other communities.
---
School Board District 2 includes all or part of Boyle Heights, East Los Angeles, Historic Filipinotown, Mount Washington, Solano Canyon and other communities. The current school board member, Monica Garcia, is termed out of office. 
---