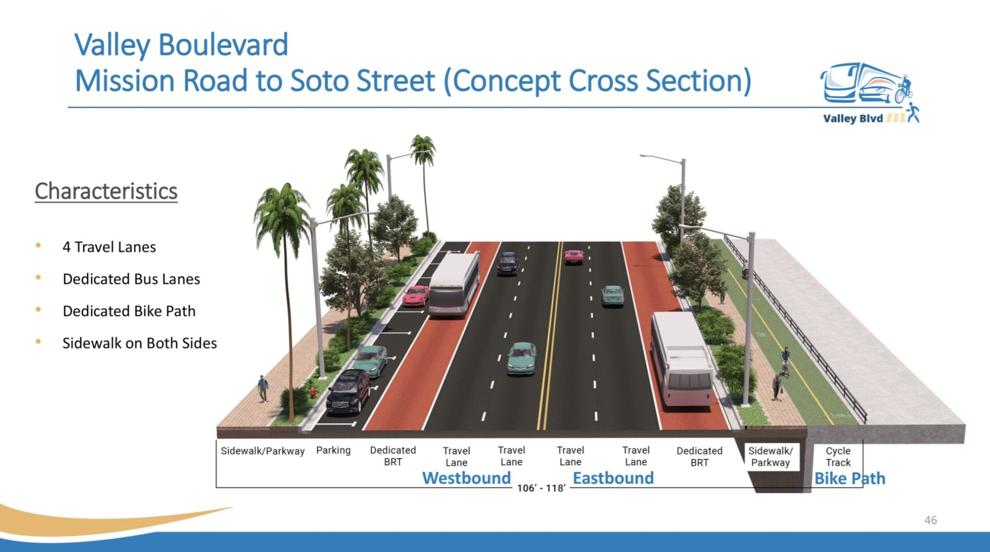 Add dedicated bus lanes. Reduce railroad crossings. Create more green space.
The above are a few of the ideas that have been proposed and contemplated for a 4-mile stretch of Valley Boulevard and Mission Road that runs through El Sereno and Lincoln Heights.
A survey found several challenges and problems along Valley, from traffic congestion and waiting for trains to a lack of sidewalks and bus stop amenities.
Potential changes include:
Add dedicated bus lanes but leave two car lanes in each direction
Synchronize traffic signals to improve traffic flow
Create protected bike lanes, build more sidewalks
Build a trench for freight trains to reduce railroad crossings
Add a shuttle bus stop near Cal State LA
Create a park with space for residential development just beyond the northern end of the 710 Freeway
Build an L-shaped pedestrian bridge at Beatie Place, which has one of the highest pedestrian accident rates along Valley Boulevard
Construction might start in five to 10 years, depending on which alternatives are chosen and after environmental impact reports and design and engineering plans are completed, according to Mary Nemick with the city's Bureau of Engineering.
The next public meeting should take place sometime in September, and an analysis of the alternatives is expected to be finished early next year.
Should the Cesar Chavez Bridge over the L.A. River be widened by about 30 feet to add a bike lane? Or should a separate pedestrian bike bridge just be built alongside?
How about the intersection of San Pablo Street and Valley Boulevard? Should the railroad simply be lowered and covered? It would simplify the San Pablo Street crossing, and create green space. But it would probably also be more expensive than just building a tunnel to cross under the tracks.
Either way, the landscape will change along four miles of Valley Boulevard, from Union Station to the northern terminus of the I-710 freeway. The question before the city is exactly what kind of changes it wants.
The options
All of this is still theoretical, and none of it will be decided overnight.
How long will it take?
The city will complete the Alternative Analysis early next year, at which point they'll also have some idea what some of this might cost, according to Mary Nemick with the city's Bureau of Engineering. She confirmed, however that, yes, lowering the railroad by the San Pablo crossing would be the more expensive option for that section, and would also take the longest to construct.
Then three or fewer alternatives will be carried forward for the environmental document, That will take another three to five years. Then comes another three years for the design.
Actual construction? Another five to 10 years beyond that, depending on which alternatives are chosen, Nemick said.
According to Chester Britt of Arellano Associates, which has been managing the community outreach for the project, the next public information meeting should take place some time around September.