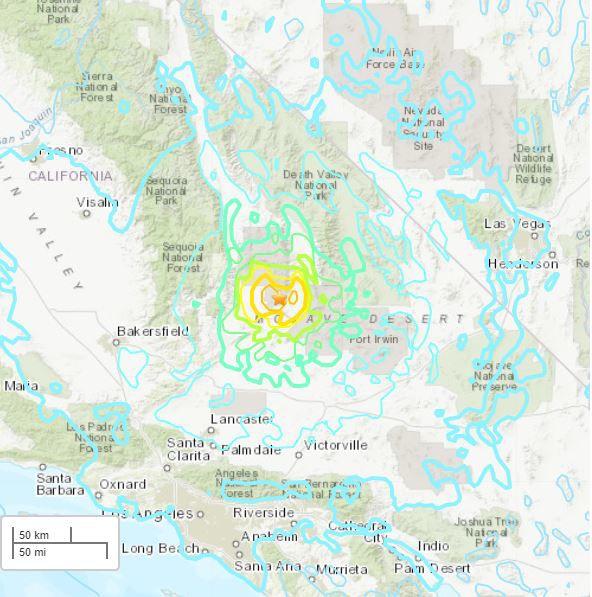 Lamps swayed and windows rattled after a 6.6 earthquake centered in the Mojave Desert near Ridgecrest was felt about 150 miles away across the Eastside neighborhoods of Los Angeles.
There were no immediate reports of injuries or damage in the Los Angeles area following the quake, which struck at about 10:30 am.
But the L.A. Fire Department  entered "earthquake mode" as crews from 106 fire stations surveyed their districts.
Here is what people were saying on Twitter about their 4th of July quake experience: 
Fourth of July earthquake in SoCal. House was rockin' in #EagleRock. Did you feel it? Let the @USGS know! https://t.co/Lu8KdrVfo5

— Jimmy Gomez (@JimmyGomezCA) July 4, 2019
My whole house was shaking lamps swinging from the ceilings I thought my Art was going to come off the walls - I'm in Echo Park. Jeez that felt scary

— Lykke Wullf (@LykkeWullf) July 4, 2019
Boyle heights! That swaying felt like forever. Boyfriend was like, wtf I haven't had an edible yet to feel like this 😂😂😂

— Vicky☠ (@_SimplyyVee) July 4, 2019
East L.A is rocking #earthquake

— East L.A. News (@EASTLA_NEWS) July 4, 2019
#earthquake #calif #highlandpark felt strong and rolled through like a ripple effect. Whew!

— Lexy90042 (@Lexy90042) July 4, 2019
Felt it at 🏠 of 🥧 in #LosFeliz , the counter was moving like a 🐍. Staff hardly skipped a beat

— sinbad✏️richardson (@sinbad_thats_me) July 4, 2019