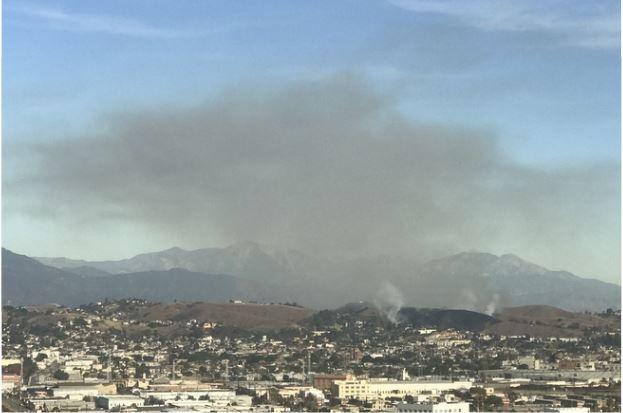 With brush and grass fires scorching the hills of El Sereno, a neighborhood couple, Kit and Naoko McConnell, have started a GoFundMe campaign with the pledge to eliminate combustible material with the help of brush clearing goats. The Eastsider reached out to the couple to tell us more about their plan and what prompted their campaign:
By Kit McConnell
We've used a weed wacker on the hillsides around our own home and on neighbors' properties for years and watched as city crews struggled on the steep terrain. Granted, the fire department does an amazing job of putting out the fires once they've started, but we don't want to see them put their lives in danger, if they don't have to.
The current approach is clearly not the most effective strategy. However, we recognize that there is a better, more efficient, and more ecologically sustainable way to clear brush and reduce the risk of fires threatening our homes. The status quo doesn't have to continue. We can solve the problem and so we are seeking community investment in order to bring a goat herd (also collectively known as a tribe, trip, drove, or flock), to the area and perform brush maintenance on a small scale with maximum efficiency.
The Brush Clearing Goats of El Sereno will be housed in the local area in upcycled enclosures and transported to job sites by trailer. The aim of the operation is to offer competitive pricing to a traditional clearing crew, but minus the loud motor noise, herbicides, or gas-burning emissions. Currently, other regional goat vendors refuse jobs in the area because of transportation and labor expenses and the relatively small size of the jobs for their larger herds.
Looking to the future, we know the herd can serve other functions, too. We have lots of plans for how the goats can contribute to the wellness of the community, including educational programs with the local elementary and middle school, as well as potentially for agricultural utility in the coming years.
There is a lot of potential, but it's also going to require a good deal of work, and we want to be certain that our community is behind us from the very start, which is one of the reasons for the GoFundMe campaign. If you think it would be preferable to have a local small herd, like the ranchers who resided in this area 100 years ago, doing targeted grazing in the hills and eradicating fuel for wildfires, then get involved. This is a overwhelmingly positive proposal for the entire community and we want everyone to be a part of it … Goat-Fund-Me!"
The Eastsider welcomes reader contributions on timely topics and issues for Viewpoints & Ideas. Submissions must be no more than 500 words and written exclusively for The Eastsider. Please contact us for details.