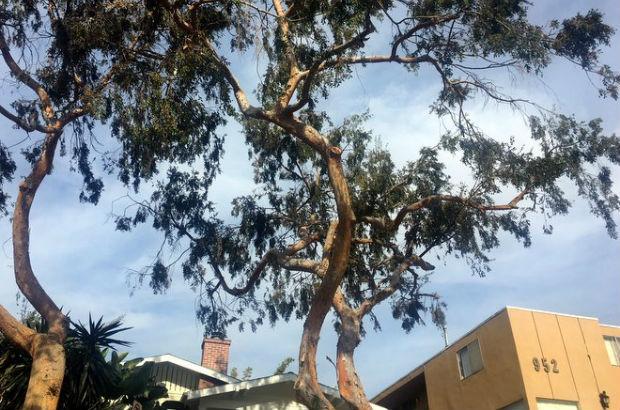 Viewpoints & Ideas is where Eastsider readers can express their opinions, start a conversation and share ideas on neighborhood  issues,  problems and potential. 
By LEA LION
ANGELENO HEIGHTS — I am deeply saddened to report the news of the desecration of the trees of Angeleno Heights. Over the past week, I have watched the trees of my historic neighborhood systematically hacked by so-called tree trimmers hired by the City of Los Angeles. The tree cutters came to Angeleno Heights armed with four heavy-duty trucks and multiple roll-off dumpsters – they used chainsaws and lifts to cut almost all of the branches off of the street trees. Now my formerly leafy street looks like a sea of concrete.
I have lived in Angeleno Heights for 12 years and have witnessed many tree trimmings in the past that did not brutalize our neighborhood trees in this way. These tree trimmers who arrived in the vehicles of a private contractor  had no consideration or care for the trees they were trimming. This was not an instance of carefully removing limbs that may fall in a storm. It was a hack job. This was an assault on a residential neighborhood – a historic enclave on the side of the freeway – a neighborhood that desperately needs its trees to clean the air!
This kind of brutal tree trimming is a tragedy for a city that desperately needs an urban canopy to make shade and clean the air. It is shameful for the City of Los Angeles to destroy its trees in this way. I ask the city to use a different contractor and plant more street trees in Angeleno Heights.
Lea Lion is an Angeleno Heights resident
The Eastsider welcomes reader contributions on timely topics and issues for Viewpoints & Ideas. Submissions must be no more than 500 words and written exclusively for The Eastsider. Please contact us for details.
The Eastsider's Daily email digest includes all new content published on The Eastsider during the last 24 hours. Expect the digest to land in your in email in box around 7 p.m. It's free to sign up!
Once you submit your information, please check your email box to confirm your subscription.