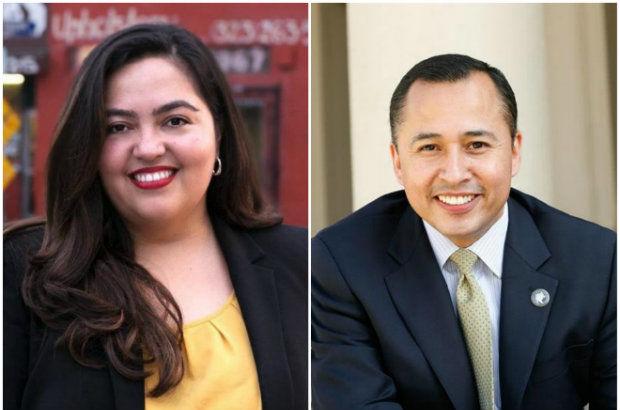 Matt Bogdanow is not a political expert – he's a musician and author of a book on how to play the drums. But he is interested in politics. After moving to Echo Park from New York several years ago, Bogdanow began taking notes for himself and then his friends to track and make sense of all the confusing California ballot measures. Now, he shares his take on the 51st Assembly District race with Eastsider readers.
By MATT BOGDANOW
Candidates Wendy Carrillo and Luis López are progressive Democrats whose ideologies are largely in line with my own, and whose populations are woefully underrepresented in politics. That's the good news! The bad news is both of their campaigns have been pretty icky, and the question is how much of that ickiness will remain once one of them is in office.
As far as I can tell, they have almost no substantial policy differences. The closest I've found is this: Lopez fully supports The Healthy California Act (SB-562), which is a single-payer plan for the state. Carrillo says she's in favor of single-payer in theory, but has not committed to supporting this particular bill. During the primary, candidate Dr. Ron Birnbaum convinced me that, with a rare democratic supermajority in the state legislature, now is the time to get single-payer passed in California. I am neither a doctor nor a politician, but I'm in favor of single-payer, and I trust Birnbaum when he says SB-562 is the right bill to get this done.
Polls for the 51st Assembly District runoff will be open on Tuesday, Dec. 5 from 7 am to 8 pm on Tuesday, Dec. 5. Click here to find out if you live in the district and here to find your polling place and sample ballot.
WHAT I LIKE ABOUT LUIS: He's a nonprofit healthcare director with a great qualifications, from co-founding Honor PAC (Latinx LGBT org), to being on the board of Planned Parenthood, to co-founding the Silverlake Neighborhood Council, to helping pass the plastic bag ban and protect our local parks.
WHAT MAKES ME SAD ABOUT LUIS: At the primary forum in Highland Park, he was the only candidate whose answer to the following question: "Can an elected accept special interest money, and still remain impartial in representing the best interests of their constituents?" was YES. (Wendy did not attend the forum) So that's a red flag. He also has run a super negative smear campaign against Wendy, and while some of the things he's said about her appear to be true (see below), others are a bit of a stretch (like comparing her to Betsy DeVos).
LUIS'S KEY ENDORSEMENTS: Sierra Club, Planned Parenthood, Councilman Mitch O'Farrell, legendary progressive Jackie Goldberg, various LGBT groups and a whole slew of local democratic clubs.
WHAT I LIKE ABOUT WENDY: She made national headlines earlier this year with her impassioned and fearless speech at the Women's March in Washington, and as a formerly undocumented immigrant she'd bring a valuable perspective to Sacramento. She then ran against Jimmy Gomez for Xavier Becerra's vacant seat in Congress; Gomez won, and has now endorsed her for his vacant seat in the State Assembly, which seems noteworthy.
WHAT MAKES ME SAD ABOUT WENDY: She doesn't really have experience holding public office. She recently took money from Women in Power PAC, a group aimed at getting more women elected (good!) who in turn received a donation from Chevron (not so good!). There's also the endorsement from SEIU, who (through a work-around that I can't claim to fully understand) seem to have spent over $300,000 on her campaign without technically donating the money to her? Plus now she's also been accused of ballot harvesting. Technically it's legal for canvassers to come to your house and ask to collect your mail-in ballot, but it's *not* legal for them to get paid per ballot they collect, and it's *not* legal for them to pressure you into handing over your ballot. If her team's been doing this, that's pretty high on my ickiness scale.
WENDY'S KEY ENDORSEMENTS: Jimmy Gomez, Congresswoman Karen Bass, Councilmen Jose Huizar and David Ryu, California Democratic Party, California League of Conservation Voters, a bunch of local unions and an array of women's empowerment organizations.
FINAL VERDICT: For me, this is a win-win big picture (Trump will absolutely hate these two), but a lose-lose small picture (because even at such a local level, things already feel dirty). Given the tactics of each campaign, I don't feel comfortable officially endorsing either candidate, but I still think it's incredibly important to vote, even if just for the fate of SB-562. Turnout will be low and the margins could be razor thin, so head to the polls on December 5th!
Matt Bogdanow is an Echo Park-based author, educator, and performer whose favorite fashion accessory is an "I Voted!" sticker.
Viewpoints & Ideas is where Eastsider readers can express their opinions, start a conversation and share ideas on neighborhood  issues,  problems and potential. Submissions must be no more than 500 words and written exclusively for The Eastsider. Please contact us for details.
The Eastsider's Daily email digest includes all new content published on The Eastsider during the last 24 hours. Expect the digest to land in your in email in box around 7 p.m. It's free to sign up!
Once you submit your information, please check your email box to confirm your subscription.