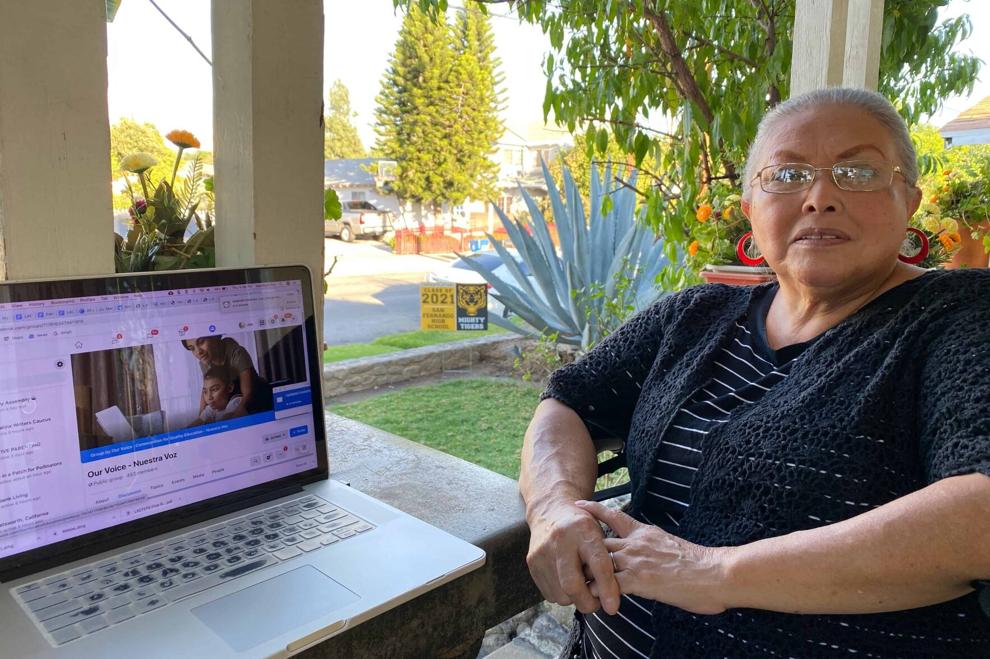 When Juanita García, a parent leader of the Los Angeles Unified School District, was invited to join the Facebook group, Our Voice: Communities for Quality Education, she thought the experience would be similar to the webinars she often participates in at her children's local school.
Instead, she found a bilingual group that offered an online space for parents, students and community to come together in support of quality education. More importantly, the group @OurVoiceforEducation offered information and resources, which are especially helpful for families during COVID, and for parent leaders like Juanita who share critical information with other families within their network.
Our Voice provides a platform where both parents and education advocates can engage with each other on shared issues. "Parents need a space where they can speak freely to one another about what's happening in their children's education," said García, who is the legal guardian of three grandchildren. "We need to connect with parents from other school districts, and have a forum where we can support each other," she added.
The @OurVoiceforEducation group and page were launched in July 2020 to address existing challenges within the public education system. Its aim was to fill the information void that took place for many families, especially Latino immigrant parents, during the COVID-19 pandemic. Within the first year, the group has grown an audience encompassing hundreds of students and parents in and outside of the Los Angeles County.
"Parents often have so many questions about their children's education, but seldom a place, particularly a bilingual (English and Spanish) online forum, where they can discuss shared experiences," said Evelyn Aleman, Our Voice founder and an L.A. Unified parent. "There are so many education issues to talk about. Our Voice strives to create a network of support - a safe space where families and other education stakeholders can learn together, collaborate, share ideas, make suggestions, as well as discuss challenges and concerns about public education," added Aleman.
Indeed, Our Voice conversations take on a variety of critical issues including: how to navigate the complexities of the U.S. public education system, challenges to online distance learning and coursework, learning district policies and news, understanding lesson plans, addressing the mental, technological, or academic needs of students, identifying opportunities for parent advocacy efforts, navigating local school board elections, or, simply, how to best help their children at every phase of the academic journey. The platform serves as an online bulletin board for education advocates, leaders and key stakeholders who seek opportunities to share important information with families, and want to directly engage and interphase with parents in ways that allow them to better understand their needs as well as that of students, and support them, which Our Voice offers.
The group also offers parents other engagement opportunities, such as a Friday Forum titled "Learning Together" or Aprendiendo Juntos. Every Friday, parents and community members gather on Zoom to learn and talk about education-related issues. The Spanish-language conversations are moderated and often offer presentations featuring free programs and resources. Information about the forum is posted in the Facebook page and group in advance of each meeting.
"Our mission is to amplify and diversify the voices of communities in support of quality public education. I invite parents and the community to join Our Voice so that we may bring together everyone who is passionate about education and find like-minded advocates," added Aleman.
To learn more about Our Voice: Communities for Quality Education, visit the website and the Facebook page or group, both at @ourvoiceforeducation. 
This Sponsored Post is an advertisement on behalf of Our Voice