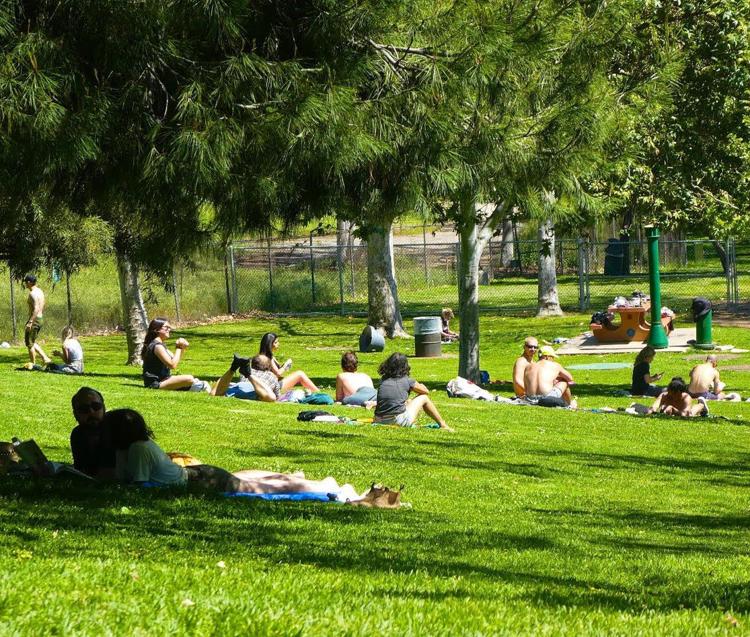 Temperatures will soar into the 90s this week in L.A. and Orange counties as the second Southern California heat wave of 2020 gets underway, prompting forecasters to urge Southland residents to protect themselves.
The National Weather Service warned that the weather could mean heat- related illnesses for sensitive groups, including people living in portable temporary shelters. It urged area residents to limit outdoor activities, wear light-colored and lightweight clothing, drink plenty of water, and never leave, children, the elderly or pets in a hot vehicle.
Forecasters said this heat wave, which is caused by high pressure, could be hotter than the last one, which ended last week, and added that heat records are possible Thursday.
Strong winds lingered, meanwhile. A high wind watch, which is somewhat more serious than a wind advisory, will be in force from Tuesday evening through Wednesday morning in the San Gabriel Mountains, where winds of 25-30 miles per hour are expected in the San Gabriels Tuesday, along with 65-mph gusts, according to the weather service.
"Gusty winds will blow around unsecured objects and make driving difficult, especially for high-profile vehicles," warned the NWS. "This includes Highway 33 in Ventura County as well as Interstate 5 in Los Angeles County."
In inland Orange County, a heat advisory will be in effect until 9 p.m. Friday.
Off the coast, a small craft advisory will be in force until 3 p.m. Tuesday, followed in some areas of the outer waters by a gale warning, which will be in effect until 3 a.m. Thursday.
The weather service forecast sunny skies in L.A. County Tuesday and highs of 79 on Mount Wilson; 80 at LAX; 81 in Avalon; 86 in Long Beach; 87 in Downtown L.A.; 90 in San Gabriel and Lancaster; 91 in Pasadena, Burbank and Palmdale; 92 in Saugus; and 95 in Woodland Hills. Highs in the 90s were expected in some communities through Friday, followed by a cooling trend.