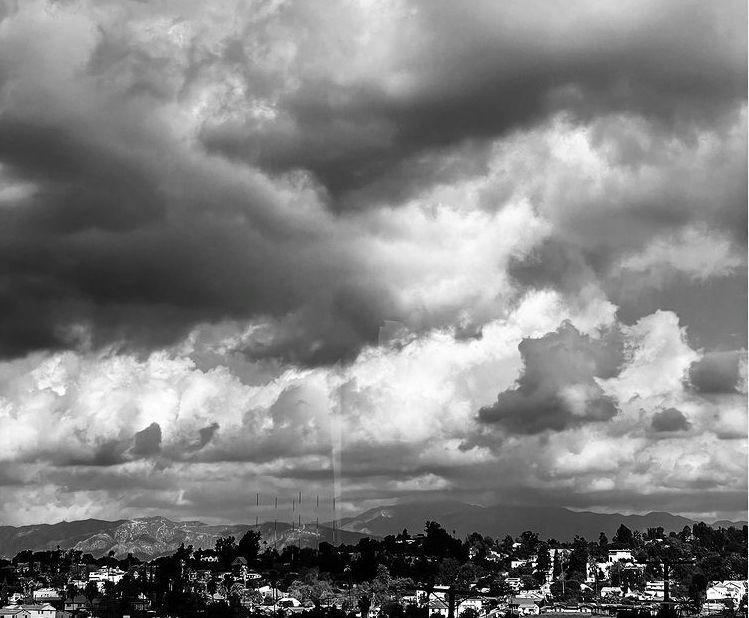 A storm approaching from the northwest is expected to drop .5 to 1.75 inches of rain in Los Angeles County today, according to the National Weather Service.
The main front of the storm system -- and the heaviest rain -- will likely hit the Los Angeles area around noon and move out of the area fairly quickly in the afternoon, the NWS said.
---
Update: The National Weather Service has issued an urban and small stream flood advisory was through 4 p.m. Rainfall rates were expected to be between a quarter-inch to a half- inch per hour -- with local rates up to three-quarters of an inch per hour across foothills and mountains.
The weather service said locations that could experience flooding include Long Beach, Malibu, Burbank, Griffith Park, Universal City, North Hollywood, Hollywood, Pasadena, Downtown Los Angeles, Beverly Hills, Alhambra, Van Nuys, Culver City, Encino, Inglewood, Northridge and Santa Monica.
Flood advisory issued for LA County as moderate to heavy rain overspreads the county through 4 pm. Roadway flooding will be likely, along with the threat of minor mud and debris flows in recent burn areas. #LAWeather #LArain #cawx #Socal pic.twitter.com/Om2mQOGo5H

— NWS Los Angeles (@NWSLosAngeles) October 25, 2021
---
Recent burn areas could experience minor mud and debris flows, but rainfall rates are not expected to create concerns for older burn areas such as the Bobcat or Ranch 2 fires, according to the NWS.
Thunderstorms are not expected during the storm, which is expected to move to the east by late tonight.
Upslope areas of southern Santa Barbara and Ventura counties could see 1 1/2 to 2 inches of rain, while other areas could get as little as a half- inch to an inch, forecasters said.
Santa Barbara officials issued evacuation orders Sunday for parts of the county within the Alisal Fire burn area.
A wind advisory was issued for the Los Angeles County mountains -- excluding the Santa Monica range -- from 4 a.m. to 2 p.m. Monday, and for the Antelope Valley from 8 a.m. to 2 p.m. Gusts were expected to reach 50 mph in both areas.
The storm is not expected to bring significant snow to the area, with levels remaining well above 8,000 feet, forecasters said.
A high surf advisory is in effect at Los Angeles and Orange County beaches from 11 a.m. Monday to 3 a.m. Wednesday.
Cooler temperatures are also expected today, with highs in the upper 50s and 60s. Dry and warmer conditions are expected during the rest of the week.